Getting up from your couch to "change the channel" on your Mac-based media center is so 1970s. If you're going to the trouble to mutate a Mac into something that delivers music and video via your AV gear—or even enjoy a movie on a 27-inch iMac across the room—you'll also want to replicate the experience of watching real TV as much as possible. That means having a remote control that lets you manage the works without a lot of fuss and bother.
If you own an iPhone or iPod touch, you've managed the largest hurdle in controlling your Mac's media applications—paying for the bulk of the remote. It only remains to add one or more inexpensive remote control applications to your phone or iPod to complete the picture.
I looked at a handful of capable remote control apps available for these devices—R.P.A Tech's $3 Air Mouse Pro, Evan Schoenberg's $5 Rowmote Pro, Hoofien's $4 Snatch, and RoboHippo's $5 HippoRemote. Each of them lets you control not only iTunes but the other media applications you're likely to use. All of them provide you with a virtual trackpad, clicking controls, and keyboard.
In most cases these applications work in combination with a server application that you install on your Mac. Air Mouse Pro, Rowmote Pro, and Snatch all use such server applications. HippoRemote controls the Mac via OS X's built-in VNC services. The server applications are free, so there are no additional charges.
Air Mouse Pro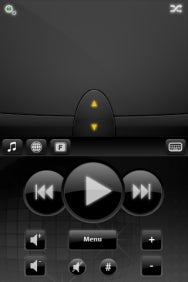 Air Mouse Pro's focus is largely on that virtual trackpad and keyboard, through it does offer separate play-control interfaces for operating media applications and navigating a Web browser. Launch the app and you see a touchpad at the top of the screen, complete with left- and right-click buttons and a typical iPhone keyboard below. Above this keyboard are buttons for invoking the Control, Option, and Command keys. Tap the Minimize button to the right of these Modifier buttons and the Media, Web, and Function buttons are revealed. Using the Air Mouse Server software on your Mac, you can create hot-keys for the Function, Media, and Web screens, assigned by application. When you tap the Media button, iTunes launches by default. Safari launches when you tap the Web button.
Rotate the iPhone or iPod touch so that it's in landscape orientation and the entire screen becomes a large trackpad. Regardless of which view you're in, there's very little lag between the time you touch the trackpad or type a key and the Mac responds. You can adjust the speed for the pointer, trackpad, and scrolling with the server software as well.
Rowmote Pro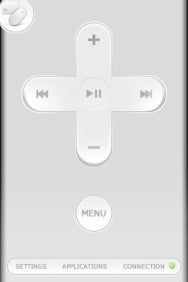 Although Rowmote Pro includes a trackpad/clicker interface and can produce a keyboard along with modifier keys, it additionally offers a controller interface that emulates Apple's hardware remote control, complete with Plus, Minus, Next, Previous, Play/Pause, and Menu buttons. Those accustomed to using Apple's remote will find Rowmote Pro really convenient—particularly since it works over Wi-Fi (as do all these applications) so line-of-sight isn't an issue as it is with IR remotes. In addition, unlike an Apple Remote, Rowmote won't attempt to control multiple Macs at the same time. (Pairing can be an issue with Apple's hardware remote.) Rowmote Pro includes presets for just about every media application you can think of including iTunes, Boxee, Hulu Desktop, iPhoto, Keynote, EyeTV, DVD Player, and Front Row. Tap one of these presets to launch that application.
Snatch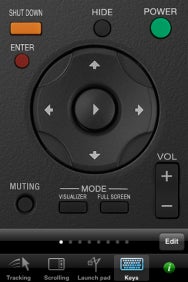 Snatch operates in four main modes—Tracking, Scrolling, Launch Pad, and Keys. Tracking is the virtual trackpad with left and right click, scrolling is for scrolling windows horizontally and vertically, and Launch Pad does what its name implies—allows you to launch applications you've added to Launch Pad and switch between open applications.
Keys serves a couple of functions. First, it displays the iPhone/iPod touch's keyboard complete with modifier keys as well as a keyboard with Function and extended keys (Home, PgUp, PgDn, End, Esc, Enter, arrow keys, and volume up, volume down, and mute volume). As you'd expect, you use it to enter text and initiate commands.
When you tap and hold on the Keys button, an interface appears where you can create buttons and then assign functions to them. For example, to create a button that opens many applications' preferences window, tap the Edit button to produce the editing commands, tap the Plus sign to create a new button, tap Properties to assign a name and color to the button, tap Record, and on the keyboard that appears tap the Command and then Comma buttons. Tap Finish and then Done. Tap this button and if the currently active program uses this Command-comma shortcut, its Preferences window will open. You can save the screens you create to your Mac and share them with others via Hoffien's Web site. Additionally, you can load screens Hoofien and others have created. Some of these screens are as beautiful as they are functional.
HippoRemote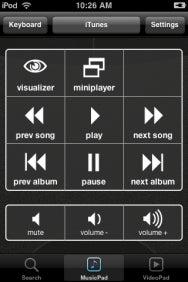 HippoRemote is another remote, another virtual trackpad, virtual keyboard with modifier, arrow, and F-keys; left and right click; and the means for launching and controlling media applications on your Mac. But it offers some unique features as well.
At the bottom of the trackpad is a rounded area that represents the scrolling control. Tap on this and a virtual dial appears on the face of the iPhone or iPod touch. Wheel your finger around and the dial turns and the frontmost window of the active application scrolls.
HippoRemote also includes preconfigured pads for controlling applications—currently there are 23 built-in application profiles. For example, when controlling iTunes you can call up a MusicPad or VideoPad. The MusicPad includes play control buttons (Play, Pause, Previous Song, Next Song, Previous Album, and Next Album) as well as buttons for toggling iTunes' Visualizer and Miniplayer and controlling iTunes' volume. The VideoPad has these same play and volume controls but offers Escape and Fullscreen buttons in place of the Visualizer and Miniplayer buttons. Choose Hulu Desktop and its PlayPad includes Up, Down, Left, Right, Enter, and Menu buttons.
And HippoRemote includes a Keyboard History feature, which remembers what you've typed in the application and then allows you to reenter a typed phrase simply by tapping it in the Keyboard History area. As much fun as it is to use the iPhone's keyboard, being able to tap an oft-typed entry is a welcome time saver.
Where to turn
Each of these apps has its strengths and none of them is terribly expensive—for $17 you can have them all. Snatch offers the greatest opportunity to configure the remote, but it will take a little work to do so. Rowmote Pro is dead simple to operate thanks to its similarity to Apple's hardware Remote. AirMouse Pro offers complete mouse and keyboard emulation, And HippoRemote is nicely configured right out of the box. If you've integrated a Mac into your media center and own an iPhone or iPod touch, they're all worth a try.