Dance music, techno, ambient—these dominant musical styles of the '80s are coming back in full force with bands like M80 and Shiny Toy Guns. With JR Hexatone Pro for iPhone and iPod touch, you can create similar drum patterns and loops, export them as a high-quality WAV file, and share your patterns with a growing community of musicians.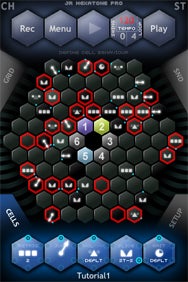 JR Hexatone gets its name partly from Jordan Rudess (JR)—the keyboardist in the progressive metal band Dream Theater—and partly from the hexagon shapes you use to create music. The app is fairly complex and a little hard to use, but when you figure out the basics, JR Hexatone quickly becomes amazingly useful.
Part of the learning curve has to do with the iPhone screen, which is great for e-mail, videos, and many other tasks but is a bit "real estate-challenged" for music apps. JR Hexatone Pro addresses the problem by using small hexagon shapes. Each one holds instructions for what to do with a music sample. (You can load six samples total, such as bass drum or snare.) For instance, you might load a snare drum sample, and then control the loop using the hexes—causing it to repeat, or pan to the left channel, or stop entirely. There are 90 hexes total that you can use to create and control drum patterns for amazingly complex beats.
If describing JR Hexatone Pro is difficult, using Amidio's $10 app is also a challenge at first. There are a few minor nits: when you scroll up and down with your finger to control tempo, the small hex size means you might change the wrong setting by accident. Given the size of the iPhone's screen, the hexagon approach is daunting at first—the app almost seems impossible to use. Once you get the basics, you can quickly start creating complex patterns.
Interestingly, like the band Dream Theater itself, the app is designed to be fan-friendly. (The band rarely does the same live show twice.) The app ships with more than 300 built-in samples recorded in 16-bit mono (which is OK for saving space on the phone and the app allows you to turn them into stereo samples); you can also load your own samples. This works almost exactly like other apps that use the iPhone's Wi-Fi connection to move files to and from the mobile device (such as QuickOffice and FourTrack), in that you set up the iPhone as a server over Wi-Fi, then access the phone using Safari on your Mac by typing in the IP address. At that point, you can download completed drum patterns and upload new samples. This feature works fine, although—like FourTrack—I'd prefer a simple "upload sample" option or even a way to access any sample online.
JR Hexatone Pro is a feature-rich app. It has hidden gems such as a way to start over with a new pattern by shaking the iPhone as well as a random pattern generator. (Just hold down the center hex for a second or two.) If you're on a road trip or waiting in line somewhere, you can create a complex loop and export it as the basis for a new song. There's also a way to export loops to Intua Beatmaker and create an entire song directly on the iPhone.
As with any complex app, there is a learning curve with JR Hexatone Pro. It's a little strange creating a drum pattern or loop using hexagons, and the tiny buttons and options require dainty fingers or extra precision—it's possible that the app design could have expanded to extra screens for settings, but then your creativity might have been hampered.
As it stands, once you learn JR Hexatone Pro, it is actually one of the best music apps on the iPhone.
[John Brandon is a 20-year veteran Mac user who used to run an all-Mac graphics department.]