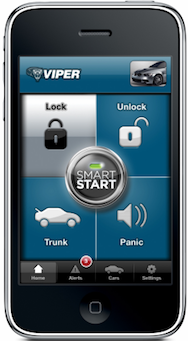 Tired of all those wasted seconds you spend unlocking your car, then turning the key in the ignition? Perhaps your iPhone can help you reclaim that precious time, thanks to a new app called Viper SmartStart.
Via Wi-Fi, EDGE, or 3G, you can use the app to unlock your doors, pop the trunk, trigger your panic alarm, and yes, even start the car itself. And perhaps best of all, SmartStart is free!
But there's always a catch. In order for SmartStart to control your car, you'll need to have the SmartStart iPhone-compatible system installed in your car. That will set you back a cool $500—or two iPod touches and an iPhone 3G. If you already have a Viper alarm, upgrading your system to take advantage of the iPhone goodness will "only" set you back an additional $300. You'll get one year of the SmartStart service gratis, but you'll need to pony up $30 every year thereafter to keep your iPhone controls working.
So if you have the discretionary income to spend and electronic key fobs just aren't your scene, SmartStart may just be right for you. Your iPhone battery lasts through your evening commute, right?
Below, find a video that showcases all of SmartStart's features.