In all the years I've mixed up drinks, either professionally or for pleasure, I've never had occasion to serve A Kick in the Crotch, an Alien Urine Sample, George's Puke, a German Burrito, or—heaven help us—a Golden Shower. Although the depths and depravity of the human imagination are infinite, I can hardly believe anyone would order such concoctions, let alone enjoy them. And I cannot understand why somebody would think they were worth including in a cocktail recipe guide.
Digital Outcrop's Mixologist app for the iPhone and iPod touch boasts 7,900 recipes, including the aforementioned abominations and hundreds more just like them, the names of several of which I cannot reprint here without inviting a harsh reproach from Macworld's puritanical editors. Mixologist, like so many third-rate booze apps that have come before it, errs on the side of quantity over quality. This is always a mistake.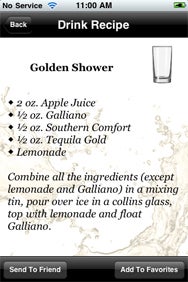 Mixologist's interface isn't strikingly different from similar apps. The home navigation screen is laid out nicely. Users have the option of browsing all drinks, browsing by category (e.g., cocktails, "martinis," shooters, non-alcoholic drinks, and so on), browsing by ingredient, or favorites.
You can also enter your own creations—ideally something more creative than "George's Puke." The custom drink capability is one of the better features of the app. You type in the name of the drink, and then select the category, glass type, ingredients and portions through a series of scroll-wheel menus. Beyond merely listing generic ingredients, such as rum, gin, vodka, or tequila, Mixologist includes an exhaustive list of spirits listed by brand name, along with just about every mixer you can imagine—including a few you should never, ever introduce into a drink, no matter how late it is or how drunk you and your buddies are.
Mixologist also has a liquor store locator that purports to use your handheld's geolocation feature. It didn't work very well for me. I happen to know of several fine bottle shops within a 30-mile radius of my home, none of which appeared in my search. As a matter of fact, the first result to come back from the search was a place called Surdyk's in Minneapolis. That's only about 1,876 miles out of my way.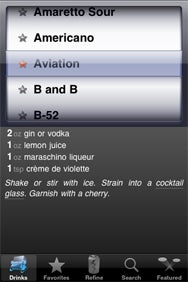 Genetic Mistakes' Drinks and Cocktails app makes a heroic effort to avoid the embarrassing recipes that Mixologist has on offer. Instead of listing thousands of lame cocktails and lewd shooters (though there are still a few of those), the app provides a reasonable selection of about 250 drinks with simple, accurate recipes and concise instructions.
The app's unusual interface probably dictated limiting the number of recipes to just those couple of hundred, however. Drinks and Cocktails relies on a scroll-wheel to browse recipes. The predictable downside of this approach is the inevitable thumb-cramp, although the developers were merciful enough to include a search function. The other downside of the scroll wheel interface is the weird way in which searches and favorites appear. When you search for a drink, the scroll wheel will fill up with the search result. So when I searched "mai tai," for example, the scroll wheel screen listed the same mai tai recipe on an endless loop. I'm not sure this hinders the app's functionality, but it's a distracting visual quirk.
One of the app's more clever features lets you select what ingredients you have on hand to narrow your recipe suggestions. The one drawback of this feature is you need to scroll through 11 screens and check off each ingredient, but the process is made somewhat less tedious by "select all" and "select none" buttons. The same scroll-wheel quirk applies. But it turns out, you can do a lot with gin, rum, triple sec, peach brandy, sugar and lime juice.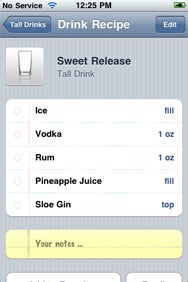 Affogato's Top Shelf Drinks (formerly Drinks, and before that, iDrink) should win a prize for the most refined cocktail application for the iPhone and iPod touch. The app seems to get better with every name change.
The major difference between Top Shelf Drinks and its earlier iterations is the quality of the database. The developer essentially trashed the old recipe list, which suffered from serious omissions and was littered with lousy drinks and error-ridden recipes, and started over. I still disagree with some of the choices. But for its labors, Affogato has come closest to the ideal marriage of quantity and quality.
Top Shelf's strongest feature remains its virtually unlimited capacity for customization. You can edit and notate any drink. A new feature is the liquor cabinet, which is similar to the refining function in Drinks and Cocktails. You enter the ingredients you have on hand, and the app will list the possible recipes. You can also ask the app to pick a random recipe.
The app's appearance and interface doesn't quite live up to its name. When it comes to design, Skorpiotech's Cocktails+ still has Top Shelf beat. But as far as content goes, Top Shelf can match Cocktails+ drink for drink.
[Ben Boychuk is a columnist, freelance writer and semi-professional bartender in Rialto, Calif. Yes, he is available for parties in Southern California. Feel free to e-mail him.]