The remote control (previously white, now aluminum) once bundled with many of Apple's computers is now a $19 option. Handy as it is to control a Mac connected to your TV from across the room, that remote is a little limited. You can do more with these remotes.
Logitech Harmony Series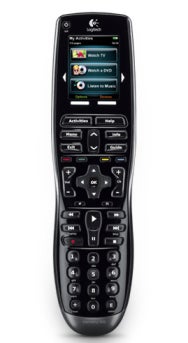 If you have a larger media center to control, complete with AV receiver and TV, you still require a separate remote to deal with all your other gear. To do that you'll want a more capable universal remote. Although there are lots of "learning" remotes available, they don't all learn as well as they might. If you instead want a universal remote that you can configure for your specific AV components, Logitech's Harmony Remotes are the way to go. Ranging in price from $100 to $400, you sync the remote to your Mac via a USB cable and use the Logitech Harmony Remote software to configure the device. You do this by attaching devices to activities—Watch A DVD, Watch TiVo, or Control Your Mac Mini, for example. Just tell the software the brand and model of the components you use, and it creates setups so that you can easily call up an activity and the remote's button will perform the correct action.
The more expensive Harmony remotes—the $400 Harmony 900 and $400 Harmony 1100 include touch screen controls as well as buttons and offer RF control when used with the Harmony RF Wireless Extender (included with the Harmony 900 but a $100 option for the Harmony 1100). RF is useful when you want to control your gear without being in sight of it (as you might when playing music in the next room) or when the beam from an IR remote can't be detected through a stereo cabinet. Like the $250 Harmony One and $150 Harmony 700 remotes, these models are rechargeable.
Hillcrest Labs Loop Pointer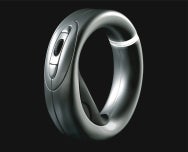 Hillcrest Labs' $99 Loop Pointer is another remote control option. This loop-shaped wireless pointer tracks the motion of your hand. Just point it (at your TV, if you like, to get your bearings) and the USB transceiver plugged into the Mac detects that motion and moves the Mac's cursor accordingly. The Loop Pointer includes left and right click buttons and a scroll wheel, and is powered by two AA batteries.
GlideTV Navigator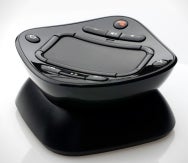 GlideTV recently released the $149 GlideTV Navigator. Like the Loop Pointer, this wireless remote works in tandem with a USB transceiver to receive signals from the remote unit. That remote unit includes a clickable touchpad, which supports cursor control, scrolling, and single- and double-clicking. Additionally the rechargeable controller sports Volume, Play, Esc, Enter, Back, and Function buttons.