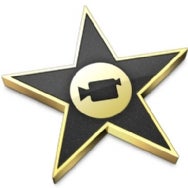 Apple on Tuesday rolled out an iMovie update, improving compatibility between its video-editing application and a number of devices while also tackling some minor bugs.
According to Apple's release notes for iMovie 8.0.5, the update improves compatibility with importing video captured on the iPod nano. Apple released a new version of the nano featuring a built-in video camera last month.
Another compatibility improvement involves camcorders that use the iFrame video format. According to a report on Cnet, iFrame is a new format based on the H.264 video and AAC audio standards. A pair of newly introduced Sanyo camcorders—the VPC-HD2000A and the VPC-FH1A—are the first to use iFrame.
As for bug fixes, Apple says iMovie 8.0.5 fixes problems with resizing the iMovie window during playback.
The 35.56MB update is available via Software Update and on Apple's Web site. It's recommended for all iMovie '09 users.