Mention "streaming music services" around the typical gaggle of Mac users and it's like you've suggested that the Mona Lisa would benefit from the application of devils horns, an eye patch, and the words "Windoze Rulez!" scrawled across her beguiling mug with permanent marker. Yet, the true multimedia Mac can greatly benefit from such services. After all, if some music is good, more is better, right? And more is exactly what these services provide. (Note that unlike music purchased from iTunes or Amazon, streaming tracks aren't saved on your computer and can't be synced to an iPod or iPhone—similar to listening to streaming radio stations in iTunes).
Some streaming services such as Pandora and Last.fm are available for free. Their operation is supported by advertising and they don't allow you to choose the specific tracks and albums you want to listen to. Other, commercial-free services such as Rhapsody and Napster, require that you pay a monthly subscription fee. But for that fee you can listen to exactly the tracks and albums you choose. These services shake out this way.
Pandora
Billed as a "new kind of radio," Pandora is a streaming service that plays music based on artists and tracks you choose as well as the positive and negative feedback you provide about the music it plays. For example, if you chose Joni Mitchell as an artist starting point, Pandora would first stream a track from Ms. Mitchell, then, perhaps, a Dar Williams track, and then other tracks it believes reflect the character of her work based on an analysis of the music. If you particularly enjoy a track that comes along, click a Thumbs Up icon to tweak the settings so you get more music like this track. Thumbs Down lets Pandora know that it's missed the mark, and that information is considered for future tracks. You can bookmark tracks and artists and move to these bookmarks to learn more about the artist as well as utilize links to purchase their work.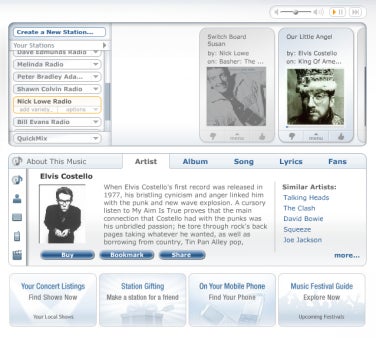 The free version of Pandora limits you to 40 hours of listening per month. Additionally, Pandora's pages feature advertising and you'll hear the occasional audio ad between tracks. All Pandora listeners are limited to six song skips per hour. Those with free accounts can skip 12 songs total per day.
You can upgrade to Pandora One for $36 a year. Do this and the audio ads disappear as does the daily skip limit (though you're still limited to six skips per hour), and you receive a higher quality, 192kbps stream. Pandora is not available outside of the U.S.
Last.fm
Last.fm is another free music community streaming service. It bases the music it streams on the music you play on your computer or iPod as well as the Last.fm stations you create and listen to. (Any information it collects is volunteered by its users.) In addition to its analysis tools, Last.fm compares the music libraries of its users, making recommendations based on intersecting tastes (similar to iTunes' Genius feature).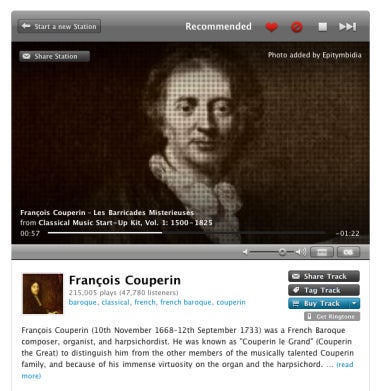 When you sign on, you create a profile page, which lists the tracks you've listened to, lists similar artists you might be interested in, and features comments from other Last.fm users who've chosen to remark on the track. This reflects Last.fm's emphasis on community and social networking.
Last.fm also has its commercial side. From within the service you find links to purchase tracks from the iTunes Store, Amazon MP3, and 7digital. For $3 a month you can listen to Last.fm without interruptions and do so without advertising. While Last.fm doesn't offer on-demand listening, you can listen to a 30-second preview of any tracks it has in its library. Last.fm is free in the United Kingdom, U.S., and Germany. A €3 monthly fee is required for listening outside these countries.
Napster
Take a word association test a few years ago, utter the term "Napster," and the response would surely be "piracy." The notorious file sharing service that was Napster is no more. Instead, today's Napster is a music subscription service as well as a music store where you can purchase DRM-free 256kbps MP3 files.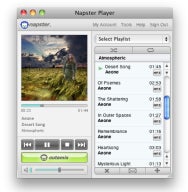 Priced at $5 a month, a Napster subscription entitles you to access to Napster's multi-million track streaming library. Additionally, you receive credit for five MP3 downloads each month. Napster's music can be streamed through your computer or a compatible device such as the Sonos Multi-Room Music System and Logitech's Squeezebox systems.
Similar to the iTunes Store you can visit genre pages to find particular kinds of music. These pages feature new releases, top albums, tracks, and artists; playlists, and staff picks.
In addition to tracks and albums, Napster offers radio stations that stream particular genres of music. These stations include such genres as rock, blues, comedy, electronica, heavy metal, hip-hop, jazz, reggae, and classical. You can also listen to tracks from Billboard's charts as well as watch music videos.
Rhapsody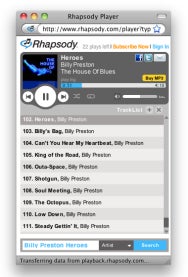 Real Networks' Rhapsody is another subscription music service. Priced at $13 a month, Rhapsody, like Napster, gives you access to millions of streaming audio tracks and you can play all of them on demand. Although no downloads are included with a subscription, you're welcome to purchase unencrypted 256kbps MP3 tracks and albums from Rhapsody. Also as with Napster, you can stream Rhapsody's music not only to your computer but to a Squeezebox and Sonos system. TiVo subscribers can also access Rhapsody's service (Rhapsody account required).
The Rhapsody experience is similar to Napster is other ways. On its Web site you'll find new releases, staff picks, top albums and tracks, and genre pages and channels. You can also create playlists of music that you can later stream.
Rhapsody recently released an iPhone app that allows Rhapsody-to-Go subscribers ($15 a month) to stream Rhapsody's content to their iPhones or iPod touch. The current Rhapsody app has met with little enthusiasm due to the generally poor quality of the stream, but company has indicated that it's working on providing better sound from its app.