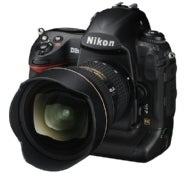 Just as the megapixel war is calming down, Nikon has thrown down a new gauntlet for camera makers with the Nikon D3S. The high-end SLR boasts a light-sensitivity range up to ISO 12,800, as well as an enhanced mode that further extends the range to the equivalent of ISO 102,400. The camera also offers HD video capture, dual card slots, and an expanded buffer.
Designed for pro photographers, the D3S features a retooled 12.1-megapixel FX-format CMOS sensor with improved dynamic range. The camera's extended ISO settings will be a boon for photographers who need to shoot in challenging low-light situations, such as indoor sporting events and weddings. The low-light performance will also be a plus to videographers; the D3S offers a High-Sensitivity Movie mode which give you access to the camera's full ISO range while shooting. The D3S captures 1280×720 video at 24 frames per second (fps). In addition to its built-in mono microphone, the camera includes a stereo-microphone input for improved audio quality. Photographers can trim video clips within the camera and extract single frames as images. Filmmakers also now have access to manual exposure controls while in Live View mode.
Like the D3 before it, the D3S captures photos at 9fps in the camera's FX-format and at 11fps in the cropped DX-format. However, you'll be able to capture nearly twice as many photos in a single burst thanks to the expanded buffer. According to Nikon, the camera can continuously capture up to 82 JPEGs (at Fine quality) and 36 14-bit raw NEF files.
The D3S also adds three sensor-cleaning modes—automatically when turned on, automatically when turned off, or manually—as well as two Compact flash card slots that can be used simultaneous (for backup), consecutively (as overflow), or selectively (so you can designate one for video and the other for stills, for example).
The D3S will sell for $5,200 and is expected to ship in late November 2009.