At a Glance
Expert's Rating
Cons
Problems with eSATA connection and Toast
Our Verdict
The MCE 8X Blu-ray Disc External Recordable Drive is a desktop optical drive that connects to your Mac via USB 2.0 or eSATA. It can burn Blu-ray discs as well as dual-layer DVDs and CD-Rs. When attached via USB, the MCE proved to be a fast and reliable burner, but it had some problems when using the eSATA connection.
The case is bulky and not very attractive, with a rough metallic body and gray-tinted plastic on the front and back. The case has a small fan which is pretty noisy, even when the drive is not operating.
The drive can burn 25GB Blu-ray (BD-R) discs and 50GB BD-R DL discs at speeds of up to 8X. Burning data BD-R/RW is supported by OS X's Finder or through a third-party application like Roxio Toast. You can burn high definition Blu-ray discs to watch on your home theatre or component Blu-ray players using the latest version of Apple's Compressor ( ; part of the Final Cut Studio), or with Roxio's High-Def/Blu-ray Disc plug-in for Toast Titanium. And though some Windows software allows you to watch Blu-ray movies on your PC, these high definition discs are not viewable on your Mac. Aside from Blu-ray media, the drive can burn all flavors of DVD, +/-, RW, DL, as well as CDs and CD-R discs.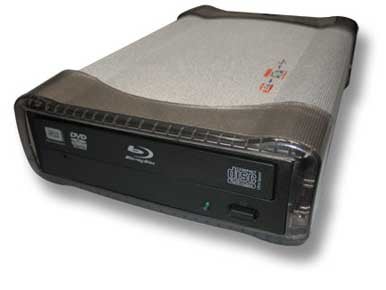 The drive was one of the fastest Blu-ray burners we've tested, though the speeds were similar whether I used USB 2.0 or eSATA. In fact, when copying data from DVD-R disc to the desktop, the drive took longer when connected via eSATA than when connected via USB 2.0. The drive wouldn't work at all with Roxio's Toast when connected via eSATA. I wish the drive didn't include an eSATA port–it's no faster than USB when burning optical discs and relatively few people have eSATA cards installed in their Mac. But the eSATA port is included, and because it was flaky, I have to ding it.
Macworld's buying advice
The MCE 8x Blu-ray Disc External Recordable Drive is a relatively speedy optical drive. Its USB 2.0 connection worked flawlessly, creating no expensive coasters during our testing. Its eSATA performance was no faster than USB and the drive couldn't burn discs with Toast when connected in that way. If you intend to use the drive with USB, it's worth a look.
Timed Trials
| Interface | Burn and Verify DVD-R at Max Speed in Finder | Copy Data from DVD-R to Desktop | Burn DVD+R DL at Max Speed Toast | Burn BD-R at Max Speed Compressor | Copy 8GB from BD-R |
| --- | --- | --- | --- | --- | --- |
| USB 2.0 | 10:58 | 4:48 | 27:05 | 13.5 | 8:05 |
| eSATA | 10:58 | 4:57 | N/A | 13.53 | 7:57 |
Scale = minutes:seconds
Specifications
| | |
| --- | --- |
| Mechanism | Matshita BD-MLT SW 5584 |
| Connections | USB 2.0, eSATA |
| Write Speeds | BD-R: 8X max; BD-R (DL): 8X max; BD-RE: 2X; BD-RE (DL): 2X; DVD-R: 16X max; DVD-R (DL): 8X max; DVD-RW: 6X max, DVD+R: 16X max; DVD+R (DL): 8X max, DVD+RW: 8X max; CD-R: 32X max; CD-RW: 32X max |
| Included Software | None. Toast Titanium 10 is a $100 option. |
[James Galbraith is Macworld's lab director.]
Note: When you purchase something after clicking links in our articles, we may earn a small commission. Read our affiliate link policy for more details.