iPhone photographers have learned to delight in their camera's limitations and imperfections, using them as a starting point for creating artistic images. It's no coincidence that many of the most popular photography apps in the App Store are filters that imitate film cameras of yore, like Lomos and Polaroids. Both toy-film and iPhone cameras have the allure of unpredictable results, quirky colors, and a signature look. You just need the right apps to bring out the best in your photos.
These are some of the basic photography apps you should have in your arsenal. Use them alone or combine their effects together by saving an edited image in your photo album and opening it from within another app.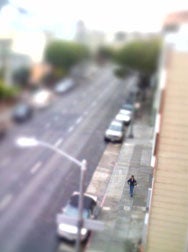 TiltShift Generator is the best way to create a miniature effect, an increasingly popular way to punch-up to plain photos. Created by Takauki Fukatsu (who also made the cool QuadCamera app), the $0.99 TiltShift Generator app works by faking a shallow depth of field for your image. The app adds a gradated radial or linear (plane) blur that expands from a selected focal area. You can move this center focal point, and adjust how much of the image is in sharp. To successfully make an image appear miniature, your original shot should already have some depth in it—two-dimensional images won't work as well.
Secondary features on this app include sliders to adjust saturation, brightness, and contrast. You can also add vignetting—a subtle fade-to-black effect around the edges of your image. The color and vignetting effects nicely compliment the tilt shift look for more authentic film-style shots. Best of all, TiltShift Generator's interface is incredibly simple and fun to use. And the app was recently updated and can now save edited images at their full size, which is a plus.
Saving images as smaller files has been a common practice of iPhone photography apps, but one that is being phased out over time.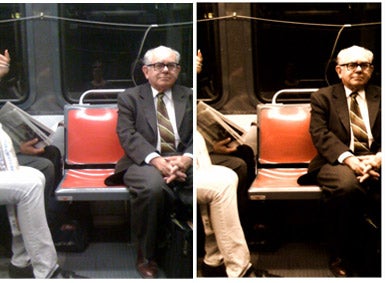 Nevercenter's CameraBag is a no-brainer for any artistically inclined iPhone photographer. Chances are you already have it downloaded. A $0.99 collection of filters that mimic well-known retro film camera styles, CameraBag has inspired many imitators of its own, but none do it as well.
It benefits from an ongoing nostalgia trend—the real Holga and Lomo film cameras are still popular products, and there's a movement underway to bring back Polaroid film. CameraBag is an inexpensive alternative for all these film lovers. It does an excellent job of recreating each camera style and process, instantly turning a low-resolution image of a cat into a piece of art.
iFlashReady is a one-trick app that adds a faux fill flash to dark shots. The iPhone camera has a fixed shutter speed and aperture, so in order to compensate for low light it has to bump up the auto ISO. This creates somewhat grainy images that can still look too dark. iFlashReady by Bo Yuan does some behind the scenes calculations to brighten up those shots even more without using an external flash or off-phone image editor.
The $0.99 iFlashready gives you three "flash" levels: Flash, More Flash, and High Flash. Open iFlashReady, select a photo from your album, and play around with each flash option to find the one that works best for your image. iFlashReady selectively increases contrast and brightens shadows without blowing out highlights or adding more noise. The app is simple but incredibly useful for salvaging good images that are just a touch too dark.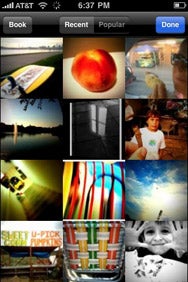 Best Camera is the brainchild of photographer Chase Jarvis, who has emerged as one of the iPhone photography community's breakout stars by promoting the old adage "the best camera is the one that's with you." He's even gone so far as to turn it into a heavily promoted brand, book and now an app, created with the help of Ubermind, Inc.
The $2.99 Best Camera is a multitasking photo app that stars a selection of filters. Each filter appears in a circle at the bottom of the app with a miniature preview of its effect. Part of what makes Best Camera different from the many other filter apps is the way you can apply multiple filters and rearrange their order for varying results. If you stumble upon a sweet filter combination, you can keep it for the next picture you edit. There are framing and cropping options as well. When you're done, you can quickly email or post your images to Facebook or Twitter from within the app.
Something else that makes Best Camera a must have is the ways you share your pictures and interact with the rest of the iPhone photo community. The globe icon in at the bottom of the app takes you to a rotating collage of iPhone photos created by other Best Camera users. Show off your own creation by uploading it to the live feed. You can vote on favorites or view them all on thebestcamera.com. The coolest part of the website is that you can see which "recipe" of filters each photographer used.