McAfee has announced McAfee Endpoint Protection for Mac, a security product aimed specifically at businesses with Macs on their networks.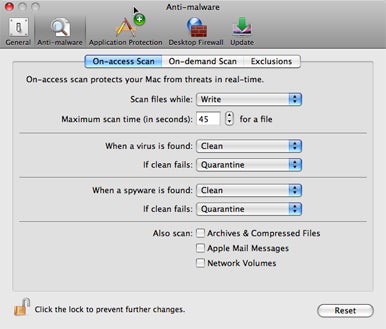 Aimed at everything from small- and mid-size businesses to enterprises, the new product includes protection against malware and spyware, as well as a firewall. It runs on OS X 10.4.6 or later, and it's available now.
"Endpoint protection" just means that client machines on a network—Macs, in this case—are protected from security threats. Many enterprises have internal security policies requiring protection of all machines, regardless of OS; some government regulations (such as the Health Insurance Portability and Accountability Act of 1996 (HIPAA)), require it as well. McAfee's product is intended to help companies of all sizes that use Macs to comply with such policies and regulations.
The software is installed on each Mac. It can then be managed by individual employees—much as OS X's own firewall and antivirus tools are managed now—or by IT staff from a central console.
Asked the inevitable question—why provide anti-malware tools for an operating system against which there have been virtually no real malware threats?—Ed Metcalf, group product marketing manager for endpoint security at McAfee, cites a recent study claiming that OS X is just as vulnerable as any other OS; it's just that cybercriminals haven't yet chosen to exploit those vulnerabilities. More immediately, he says, in a mixed corporate network, Macs can serve as vectors for Windows infections, even if they don't become infected themselves. McAfee Endpoint Protection, he says, can block such outbreaks.