Inkvaders is a $1 side-scrolling alien shoot-'em-up from Chillingo. The game play strikes me as very reminiscent of Zombieville USA, and that's a good thing.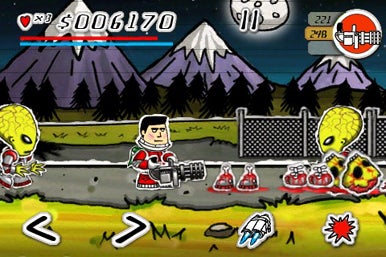 You control Generic Marine, an affable character suffering through various adorably hand-drawn worlds, overpopulated with aliens out to kill him. Your job is to stay alive, as aliens approach from all sides hell- (or Mars-) bent on killing you. The game offers a smart, introductory "Boot Camp" level that acclimates you to the controls, which are dead simple, with an emphasis on dead. Controls on the left-hand side move you from side to side, and controls on the right are used for shooting and "boosting." Boosting is a spacey kind of jump, which you'll use to collect goodies and leap over evil alien overlords. You'll need to keep close tabs on your ammo and boost energy levels—if either runs out, you're in for some serious space overlord-inflicted pain.
As you navigate the various levels in Inkvaders, you'll spend a lot of time shooting at aliens. In between, you'll tap on various power-ups which restore your health or provide ammo. And the more goodies you collect—and aliens you slaughter—the more points you earn. Those points can be spent at the occasional vending machines you'll encounter, which sell (of course) more and better guns, ammo, and health restoration.
Making each level extra tricky is the Rush button… If you dare to press it, that is. Tapping that button releases mass hordes of armed alien attackers. You'll want plenty of health and ammo before triggering their onslaught, but it can pay off big time if you manage to stay alive and mow them all down, adding oodles of points to your score.
Inkvaders looks great. It's odd to describe a death-and-destruction-laden game like this as "cute," but that's just what it is. The hand-drawn graphics add a nice dose of personality to the game, and in fact, you'll even see the hand that did the drawing from time to time. There's a nice soundtrack too, though after a few levels, I appreciated the in-game option to choose a playlist of my own.
I also appreciated the game's smart customizable options: You can play on easy, medium, or hard difficulties; you can turn off sound effects and/or music; and you can reverse the controls if you're a lefty. On top of that, the game offers "endurance" mode, if you want to see just how long you can outlast one never-ending wave of murderous extra-terrestrials.
While there's a lot to like about Inkvaders, there's certainly room for improvement. I wish I could fire my weapons while boosting, but the game just won't let me. To its credit, Chillingo has added online leaderboards and promises a host of other features—most significantly, end-of-level bosses and the ability to fight while using your jetpack—in future updates. Still, the gameplay can get a bit mind-numbingly repetitive—there are only so many aliens I can blast away in one sitting.
That said, if you're in the mood for a cathartic alien annihilation, you can't really go wrong with Inkvaders. And a free Inkvaders Lite lets you sample the game to see if it measures up.
[ Lex Friedman wants it known that no real aliens were harmed in the writing of this review.]