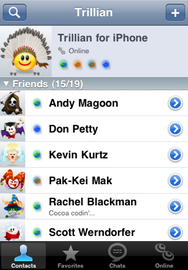 Sometimes radio silence is a good thing. For example, say you're planning on defecting to the U.S. with an experimental military submarine—that would be an occasion where loose lips might literally sink ships. However, somebody might want to let Apple know that the Cold War is over and that not communicating with developers is not an appropriate reason to stay mum.
Cerulean Studios, makers of the popular Trillian instant-messaging client, has been in the dark for going on two months about its submission of Trillian to the App Store. A post on the company's blog says that it's heard nothing about the submission other than generic feedback:
Unlike many of the horror stories you may have read about, we haven't yet received a rejection notice and we're not frantically going back and forth with Apple fixing reported problems.
Quick, somebody call Phil and let him know. I can understand delays, but 60 days is pretty excessive, especially for an IM client. At least if something were wrong, it would presumably be helpful to tell Cerulean so the company can attempt to fix the issue.
Of course, Cerulean's no stranger to long delays itself. We first heard that Trillian Astra, the current version of the company's flagship product, would be coming to Mac OS X back in 2007, but over two years later it still hasn't been officially released. Part of the reason for that delay appears to be that the company decided to rewrite its Mac OS X client to take advantage of some of the underlying code from the iPhone client.
While it may seem like the deluge of App Store criticism has dwindled, it's hard to know whether that's the result of Apple actually making improvements or merely of people becoming accustomed to this close-mouthed approach as business-as-usual. Clearly, though, there are still issues to iron out.
Update: Headline edited to clarify.