Reader Evelyn Cromwell asks a question that I try to answer every couple of years. She writes:
Having been an Appleworks user since 1987 I'm lost without it. I now have iWork and Bento 2, but am unable to print out labels. Is there some other software available to print mailing labels with my iMac using Snow Leopard?
There is and it's an application you're likely very familiar with: Address Book. Though it's not a highly visible feature, Address Book supports label printing. You print labels this way:
1. Create a group in Address Book with an appropriate name—My Holiday Labels, for example—and move into it those addresses for which you'd like labels.
2. Choose File -> Print.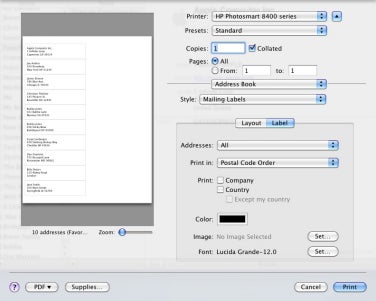 3. In the sheet that appears, choose Mailing Labels from the Style pop-up menu.
4. Click the Layout button and from the Page pop-up menu below, choose the kind of label you intend to use—Avery Standard, for instance.
5. From the pop-up menu to the right, choose the specific label "model" you'll use—5161, for example.
6. Click Print and you're done.