Fans of zeppelin bombers, Tesla tanks, and attack bears should be at the ready. Command and Conquer: Red Alert should arrive on the iPhone later this month—October 23 to be precise.
In this iPhone and iPod touch game from Electronic Arts, aspiring commanders can lead the good guys (the Allies) or the bad guys (Soviet Russia) in a science-fiction alternative universe where the Cold War has become very, very hot. Featuring nuclear weapons, time travel, and over-the-top machinations, Red Alert is a strategy franchise unlike any other. Staying true to the spirit of the series, the iPhone version of Red Alert will feature many of the iconic units from each side and also offer single player campaigns for each faction. Lock and load, comrade.
Recently released screenshots reveal a great deal about what to expect for Red Alert's first foray onto a mobile platform. The iPhone version seems to take units from Red Alert 3 (including Soviet fighter jets, helicopters, etc), yet the art style, graphics, and two-faction offerings are more reminiscent of Red Alert 2. Per EA's announcement, it looks like the Paladin Tank from Command and Conquer Generals is making its first appearance in the Red Alert universe and there should be other new units to use as well. The screenshots also reveal the return of the blonde Tanya unit from Red Alert 3 and the iconic Kirov Air Ship first featured in Red Alert 2.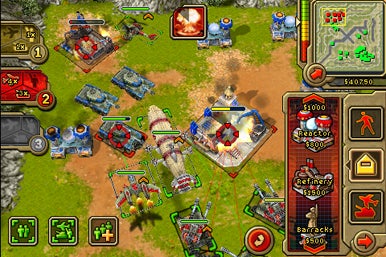 Like EA's version of Sim City for the iPhone, Red Alert looks like a remix of several Command and Conquer titles. Hopefully, Red Alert won't inherit Sim City's clunky and inexact control problems.
Using the iPhone's touchscreen technology, you'll be able to drag and scroll to manipulate your view of the battlefield. Pinching the screen will allow you to zoom in, for example. You'll select units with a tap and supposedly control multiple units at once. The Command and Conquer series is renowned for its ability to control massive formations of troops and tanks, so the ability to pinpoint where your troops go will be pivotal.
While we only can speculate about how the control scheme will work, the screenshots reveal icons in the bottom corners of the battle HUD that suggest an ability to create groups so you can micromanage your troops and attacks. So far, the iPhone hasn't proven to be the best platform for such detailed manipulation, but the shipping version of Red Alert will tell us EA has broken the code.
EA's press materials boast that you can battle through 12 combat levels and two different maps in Skirmish mode. But the press materials leave some questions unanswered. A price hasn't been set, we don't know plot details, and it's unclear whether the iPhone version will have the campy cutscenes the series became famous for. Perhaps most important, there hasn't been a mention of multiplayer functionality—an oversight that Allies and Soviets alike would like to see rectified.