Despite many recent kudos for the idea of running barefoot, and perhaps even the beginning of a barefoot running movement, most runners still wear brand name running shoes when they head out for their exercise. Like many other brand name products, running shoes come in a variety of types and styles, with variations based on functionality (racing or training?), orthopedic design (for runners with flat arches, high arches, and so forth), color combinations, and even "extras," like the spot in each Nike shoe pair where you're supposed to put your Nike+ sensor.
Most often, long-time, serious runners pick up their shoes at a retail running store or major online outlet such Road Runner Sports. And often, runners have a favorite brand and style, which they can be quite passionate about. But sometimes you want or need something different, because of an injury, or a switch in running routes from streets to trails or vice-versa, or because you think the right racing shoes will help you shave 30 seconds off your 5K time.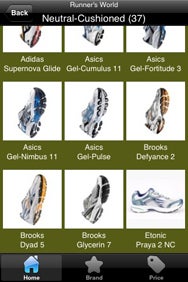 This is where Runner's World Shoe Shop can come in very handy. The free app includes information—a photograph and detailed text description—of 122 different men's brands and styles, and 124 women's. Twenty-one different brands are represented, and they range in price from approximately $50 to $150. In addition to the shoe information (these are not reviews), the app from Nearbynow also includes five downloadable videos, which describe, in a succinct and understandable way, what is meant by terms bandied about often in shoe descriptions: underpronation, overpronation, and normal pronation. One video shows you how to determine whether you have high or low or normal arches, which may influence your shoe choice. The last video explains and depicts the correct way to tie your shoes (get rid of that Granny Knot!).
This wealth of information is easy to navigate: shoes are divided into five categories: stability, performance training, neutral-cushioned, trail, and motion-control. After you pick a category, thumbnail photos of all the shoes in the category are displayed on the screen. You then click on the thumbnails for larger photos, and text information. If you're interested in a particular shoe, buttons at the bottom of the screen enable you to find local retail stores that may carry the shoes (you can e-mail the stores from within the app to find out whether they're in stock in your size or not), forward the shoe info to someone via e-mail, or go to the manufacturer's Web site in Safari.
The ability to check local stores is a nifty feature: I sent e-mails to nearby outlets asking if they carried my size of a particular style, and got an e-mail response within 10 minutes in each case. (You can also choose to send and receive SMS messages.) One e-mail said the store was out of stock; another said they had the shoes, but not in my size. Considering that I could have checked more than 20 stores within a half-hour drive of my home in this fashion, within minutes, this feature certainly seems like a time-saver. A third store didn't respond to an e-mail.
The app's Find It Online option was less impressive—Runner's World Shoe Shop only provides a link to the manufacturer's Website, even though all of these brands are available through other online stores, often at cheaper prices.
But there's more. Besides sorting shoes by type, you can also choose to look at shoes that cost between $50-$100 or shoes that are $100-$250.
Runner's World Shoe Shop sports a nifty interface, with large buttons and thumbnail photos that make navigating easy. More important, perhaps, is that this app is packed with information. The app can help you determine what type of shoe you should be looking for, but at the same time it makes clear that it can't tell you, precisely, which is the best running shoe for you. It says once you determine what type of shoe you want, you'll probably want to talk to a shoe retailer or specialist. That's good advice.
Much of this information is available online at the Runner's World Web site, and also in Runner's World magazine. But the Runner's World Shoe Shop app does a better job than both at presenting the information and providing ways to drill down to the heart of the matter—where can I buy this particular pair of shoes?
Runner's World Shoe Shop should satisfy the large majority of runners. But if you're looking for something a little off the beaten path, so to speak—say the increasingly popular Vibram Five Fingers or the new niche running shoe maker Newton, you're out of luck with this app; you'll need to seek information elsewhere. Perhaps in future versions Runner's World will toss in some of these nifty alternatives. In any case, the app is off to a great start.
[Jeff Merron is a freelance writer and editor living in North Carolina.]
Note: When you purchase something after clicking links in our articles, we may earn a small commission. Read our affiliate link policy for more details.