Halloween (October 31) is sometimes accompanied by feelings of fear and dread, but it also can inspire celebration and remembrance.
You can witness these attitudes in the world of fonts, from spooky and threatening to wistful and organic. In modern times, Halloween is generally considered to be a children's holiday, and because of that, some fonts feature childlike drawings of smiling jack o'lanterns and black cats. Others expand on the title fonts used in spooky books and horror films.
Although Halloween is a relatively short season (if a single day can represent a season, which judging by the commercial market, it definitely can), there are a remarkably large number of fonts dedicated to it. Perhaps that's because so many people celebrate it or because the graphic theme is so compelling and well-defined. Or maybe it's simply that designing Halloween fonts is great fun. Whatever the reason, you'll find great Halloween fonts from almost every vendor, and a huge number of free fonts on the Internet. (A lot of those free Internet fonts are truly awful, so you'll need to pick and choose.) The following can be used to decorate posters, cards, invitations, Web sites, or any message you want to send.
Halloween font packs
Halloween font packs are available from several vendors. I suggest visiting their Web sites and searching for keywords like "Halloween" or "spooky." For example, Ascender has a Halloween Font Pack for $10: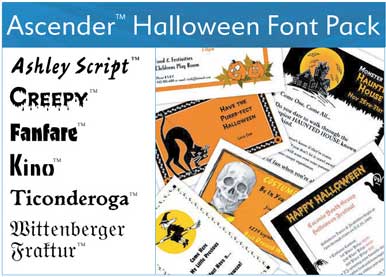 Linotype has a Halloween Value Pack for $100: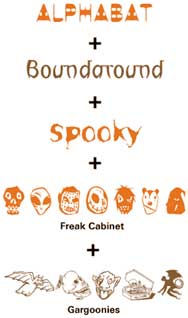 Individual packages
Below are some of my favorite high-quality fonts that you can buy from commercial vendors:
Altogether Ooky, from T26 ($59)

Merlin, from Fontshop ($171)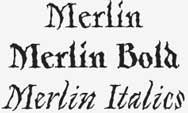 LTC Halloween Ornaments, from Fonts.com ($20)

Trick Or Treat, from Fonts.com ($19)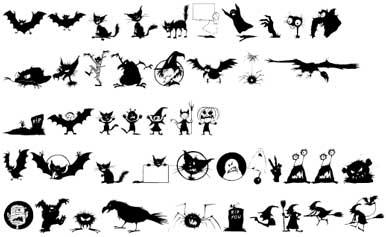 Buenas Noches from T26 ($19)

Free fonts
The free fonts available online vary widely in quality, but here are few of my favorites: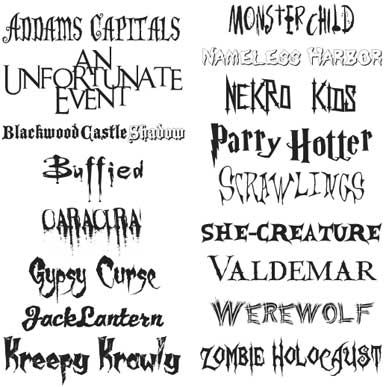 For some more excellent, free spooky fonts, check out Chad Savage's Web site. He also has excellent sounds, desktop pictures, folder icons, cursors, and buddy icons (avatars).
Happy Halloween!
[Jay J. Nelson is the editor and publisher of Design Tools Monthly, an executive summary of graphic design news.]
This article was updated to remove an erroneous reference.