Television ads for the iPhone promise that "There's an app for that." And, if you're talking about to-do lists, tip calculators, and myriad other categories, that's likely true. But what if there's not an app to pull off the particular task you're hoping to perform on your iPhone? And, assuming you have the programming chops to actually build such an app, how can you expect to garner any attention in an App Store that's jammed with 80,000 or so other programs also hoping to catch the eyes of users?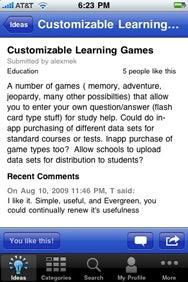 Appswell thinks it has the answer to both problems—an iPhone app that lets you propose ideas for mobile applications and vote on which ones should ever see the light of day.
"We really believe the next big iPhone app idea is bouncing around the head of users," said Daniel Sullivan, Appswell's president and founder.
The app—also called Appswell—allows users to submit ideas for iPhone and iPod touch applications. Other users, who've registered with Appswell, can offer their feedback on the idea, voting for the ones they like. Every four weeks or so, Appswell picks a winner based on user votes.
The prize? Appswell, along with its partner Bit Group will turn the app proposal into a finished product. The user who came up with the idea gets $1,000 plus 10 percent of the profits from subsequent App Store sales. And then the contest kicks off again.
(There are some general requirements for app ideas, Sullivan says. The idea has to be something that Appswell and Bit Group are able to build and it has to adhere to Apple's standards for iPhone apps—no porn, bandwidth hogging, privacy-compromising, malicious, or illegal apps, in other words. Which, sadly, eliminates, most of my app ideas right off the bat.)
While Appswell is billing its crowd-sourced approach to app development as "The American Idol of iPhone apps, contest winners will be entirely chosen by other Appswell users, with no panel of judges weighing in with its opinions. So don't look for the App Store equivalent of a Simon Cowell making lemon faces while you describe your idea for the perfect iPhone app.
"Right now, we really want to take this as the voice of the [Appswell] community," Sullivan said. "We don't want to put a filter on it."
In addition to giving users the chance to propose ideas for would-be iPhone apps, Sullivan thinks Appswell's approach solves one of the major dilemmas facing developers—namely that it's hard to stand out in the App Store with so many apps arriving on any given day. By involving users early in the development process, Appswell believes, it can find out what consumers want before apps are even built. And Appswell-developed apps will have a built-in fanbase of users who voted on the app from the get-go; that potentially gives the app an edge when it eventually arrives in the App Store.
It remains to be seen, though, how successful the crowd-sourcing of app ideas can be. Mac users might remember My Dream App, a contest that generated several "winning" app ideas, but none of the apps ever saw the light of day.