At a Glance
Expert's Rating
Pros
Great, easy-to-use workflow
Helps you manage estimates, invoices, and payments
Makes approving estimates/invoices, and making payments easy for your clients
Cons
No time tracking
Missing basic reporting and/or exporting features
Paypal not available for two lowest priced accounts and pricing schemes are too limiting
Web pages aren't designed for Mobile Safari
Our Verdict
Ballpark is a simple, Web-based estimate and billing application that allows you to manage estimates, bills, and payments from the Web. Ballpark also allows your customers to view, approve, and ask questions about estimates and invoices and make payments using Paypal. While the program is beautifully designed and easy to use, it's missing key features that would help make it the killer small business/freelancer application.
Ballpark comes in five cost tiers, each offering slightly different features or, depending on your point of view, limitations. These range from a free account that allows you to create three estimates and one invoice per month, to a Corporate account ($99 per month) that give you unlimited access to all of Ballpark's features. To offer Paypal payments to your customers you'll need to sign up for a $24 per month Studio account, the $49 per month Agency account, or the Corporate account.
Ballpark uses a simple workflow broken into four separate areas that apply to your business. The Dashboard gives you an overview of all your current estimate, invoice, and payment activity and allows you to drill down into all your current business activity. You use Estimates to create new estimates, process open estimates, and view all draft, open, and closed estimates. Invoices is used for managing open and closed invoices, and for creating new invoices. The Client area is for creating and managing your clients.
The beauty of Ballpark lies in how easy it is to get estimates and invoices into your customer's hands. Use the Estimate screen to add any number of items and include other team members. Once a draft is created others on the team can review and edit the estimate and are notified by e-mail when changes are made. Once the estimate is complete you send it to your client who receives an e-mail with a Web link to the estimate. You client can then download a PDF of the estimate, send you notes on the invoice and share it with others for review. When your client accepts the estimate you receive an e-mail notification and the Dashboard shows the Estimate as accepted. Once work is complete, you return to the accepted estimate, make any changes or additions you may need to, and then send the invoice to your client. When you a receive payment, Ballpark closes the estimate out.
While the process of creating estimates and invoices and receiving payments works well, Ballpark does have some significant limitations that make it a less than perfect business tool, especially when it comes to closing out business at the end of the year. At present Ballpark offers no reporting features and there's no way to export your transaction information so that you can use it in a spreadsheet application like Numbers ( ) or Excel ( ) or import it into some other business accounting application. Even though Ballpark makes billing easy you'll still have to maintain duplicate accounting information in a separate application.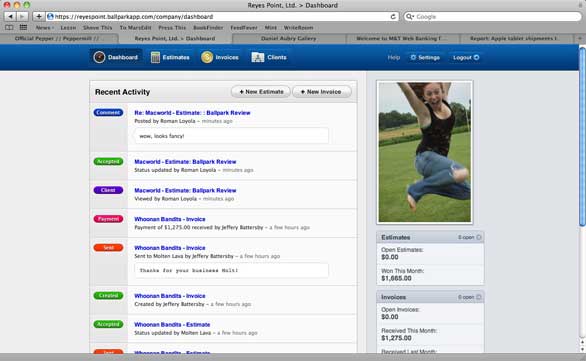 For businesses that bill for time Ballpark lets you enter time into invoices but provides no means of tracking time on projects, so, again, you'll need to use some other tool for time tracking purposes and then manually enter the information you've tracked into Ballpark. I also could have used an iPhone savvy Web interface and, as a regular freelancer, found Ballpark's pricing tiers to be limiting for my needs. As a freelancer who can easily send out more than five invoices per month, I found the $24 per month for a Studio plan to be too steep.
MetaLab states that all of these issues will be addressed in future updates of the application.
Macworld buying advice
Ballpark is a slick, well designed estimate and invoicing package that is evolving on a regular basis. At present it lacks the basic reporting and exporting features necessary for most businesses and its pricing plans may prove too limiting for some users.
[ Jeffery Battersby is a writer, IT manager, (very) small-time actor, and regular contributor to Macworld.]