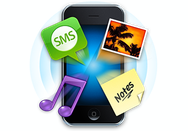 Ecamm Network's PhoneView is already one of the best tools you can put on your Mac for interfacing with your iPhone. Need to retrieve music? Grab camera photos? View your call history? Create, edit, and save notes? PhoneView can do all that and, with the latest update to version 2.3, it's added a few tricks up its tastefully tailored sleeves.
Two big additions headline PhoneView 2.3's new features: you can now use the software to retrieve your iPhone's MMS messages (previously the software was limited to SMS) and view them on your computer. Even cooler, PhoneView can now also automatically archive your Visual Voicemail messages and give you the ability to export them into AAC files. So if you've got a crucial message you need to keep—or perhaps just a cheery "happy birthday!" song from the kids—you can easily save it for posterity.
Version 2.3 also fixes a handful of smaller bugs and re-enables support for deleting SMS messages in iPhone OS 3.1. PhoneView 2.3 is a free upgrade for existing owners; new users will have to pay $20. The program requires Mac OS X 10.4.11 or later and iTunes 8.1 or later, and works with any iPhone or iPod touch.