So you think you have a first-class vocabulary? Okay, suppose you have a fair-to-middling vocabulary? Lunchbox Apps' Word War will put your command of the language to the test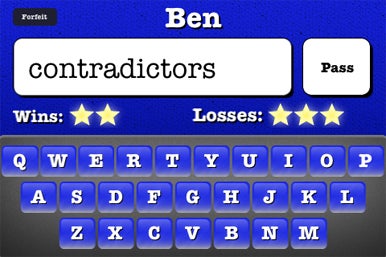 Each round of the game starts with a random letter. The object is to add a letter at a time until one player makes a word that cannot accept any more letters—or, as the game's helpful "boot camp" summary puts it, "until one player… makes a word not on the word list."
The game lets you play up to four rounds on three levels of difficulty. Easy is almost idiotically simple and the game will not recognize certain words it would accept in a game played at a higher level. Hard is the most challenging. Although it's possible to win with fairly simple words, the computer will often throw in a letter that will force you to think and might even tempt you to reach for a dictionary.
Word War rewards strategic thinking. You need to be a good speller and know how to count. You need to think ahead a few letters. Can I make this a compound word? Can I make this a gerund? Can it be an adverb? The last thing you want to do is let your opponent, whether it's the person sitting next to you or the app, foul up your game by finishing your word on his turn or preempting your long word with something shorter and simpler.
The game helpfully keeps track of your stats, including the average word length in your games, the longest word spelled (in my case, "psychometricians"), your win-loss record against the computer, and the outcome of your five most recent games.
Word War isn't without its drawbacks. It's possible that your vocabulary is better than the app's. I attempted a few words—including "vouchsafed" and "goutweed"—that the computer rejected as "not a word." And yet "ywis"—an archaic adverb meaning "certainly" or "assuredly"—shows up. Madness!
Developer Reese McLean explained in an e-mail that Word War uses the open source Enable2K word list, which contains more than 173,000 words and is modeled after the official U.S. Scrabble dictionary. McLean told me that neither "vouchsafed" nor "goutweed" appears in the Scrabble Dictionary either. (Somebody should fix that.)
The game can be repetitious and predictable in places. After a very short while, I discovered a few words that will beat the computer every single time. Tacking an "s" to the end of most nouns in the game will almost always win you a round. And when "x" comes up, you will never lose with "Xeroxing."
The app will let you share your stats on Twitter. During my testing, a bug affecting users with the iPhone 3.1 update would cause the app to crash when you tried to tweet your status. However, both the iPhone OS and Word War have seen updates since then, fixing the problem.
I wouldn't want to mix my asparagus on your chocolate cake, but the game might have some educational value, too. I've played two-player games set to "easy" with my 7-year-old son, who struggles with his reading and spelling. And it turns out he's not half-bad. He's beaten me several times, and not just because I might have helped his spelling a little. He just knows how to count better than his old man.
[Ben Boychuk is a columnist and freelance writer in Rialto, Calif. Feel free to e-mail him.]