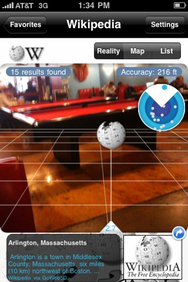 Augmented reality apps—mobile applications that can superimpose contextual digital information on top of the real environment—have carved out a very impressive niche on the iPhone 3GS. They demonstrate new and innovative uses for smartphones with a compass, a GPS, and a camera. They've also made quite a splash on other smartphones: Google's Android platform, for example, has a beloved augmented-reality app called the Layar Reality Browser. Today, Layar has announced the release of version 2.0 for the iPhone 3GS.
Unlike special purpose augmented-reality apps that tie themselves down to a particular location and a specific need, Layar lets users choose from a wide selection of 161 different augmented reality views. These layers feature familiar Web services like Wikipedia, Yelp, Google local search, Qype, Brightkite, Yellowpages.com, and Twitter. There are also several lesser known directory services available to find tourism hot spots in Japan, stations in the London Underground, or the closest Tim Hortons for a traditional Canadian coffee fix.
Layar was made to provide content worldwide, limited only by what each content provider is willing to offer for a given region. You can search through layers, view content in your augmented views as a map or a list, take screenshots in the app itself and share layers with friends.
The developers do appreciate feedback, so be sure to let them know what you think in their blog or within the swampy morass of App Store reviews.
For Layar 3.0, the developers also plan to add 3D capabilities for a full 3D augmented reality experience. Thanks to the, ahem, very efficient App Store approval process, no release date for the iPhone version of 3.0 has been announced, but it will be released for Android in November.
Layar 2.0 can be downloaded now from the App Store for free; it requires an iPhone 3GS running iPhone OS 3.1 or later.