At a Glance
Expert's Rating
Our Verdict
A convenient feature of Mac OS X is its built-in spell checker, used by most Apple programs and accessible to any developer that wants to include the feature in their software. For example, BBEdit provides a number of spelling features based on OS X's spell checker.
You can add words to OS X's built-in dictionaries (or, described more accurately, add words to a supplemental custom dictionary that OS X will also reference when checking spelling), by right-clicking on a flagged-as-misspelled word and choosing the option to learn that word. This is an especially useful feature if, like me, you frequently work with words—technical terms and the names of products, companies and people—that don't appear in most spelling dictionaries.
The problem, however, is that once you've added words to OS X's dictionary, there's no way to edit those additions. Perhaps you accidentally added an incorrect spelling, or maybe you just wanted to avoid a particular word being flagged during a particular article or project. Mac OS X simply doesn't provide an easy way to edit the dictionary. Similarly, there's no way to add a new word without typing it in a document or text field, spell-checking that text, and then adding the word once it's been flagged as misspelled.
Two AM Software's Dictionary Cleaner 1.5 is a simple utility—actually a System Preferences pane—that provides basic dictionary-editing capabilities. Open the pane, choose the dictionary you want to edit (for me, English), and Dictionary Cleaner shows a list of all words you've added, sorted alphabetically.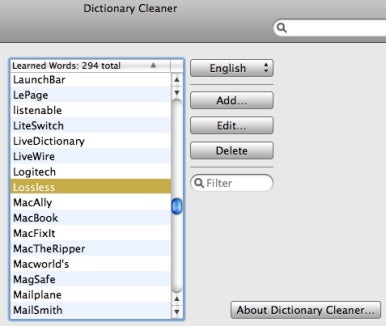 Select a word and click on Edit to edit that entry, or click on Delete to remove it completely. To quickly find a word, type the first few letters in the Filter field. (Unfortunately, the Filter field is case-sensitive—typing Super will find SuperDuper, but typing super won't.)
You can also use Dictionary Cleaner to add new words to your spelling dictionary; just click on Add and type the new word. One feature I'd like to see is the capability to import a text file containing a list of words, rather than typing each manually.
Dictionary Cleaner is easy to use and fills an obvious hole in OS X's feature set. But it promises to get better: the developer of Dictionary Cleaner is working on a big upgrade that will include support for the separate spell-checking dictionaries of Microsoft Office and Firefox, as well as the capability to synchronize those dictionaries with OS X's own.
Want to stay up to date with the latest Gems? Sign up for the Mac Gems newsletter for a weekly e-mail summary of Gems reviews sent directly to your Inbox.