Zensify has a bone to pick with the way mobile devices make you read the news.
Most RSS apps for the iPhone give you a chronological list of headlines, with the most recently posted stories listed first. That's all well and good, says Zensify chief technology officer Tom Campbell, but it doesn't provide much in the way of context—which stories are important and which ones people are talking about.
Enter ZenNews, the latest iPhone app from Zensify. The app not only aggregates news headlines, but relies on analytics technology to highlight stories that are likely of greatest importance to the user.
"It's a way to make news discovery more accessible to a mass market," Campbell told Macworld. "With a few swipes of your thumb, you can discover what's news and what people are tweeting about."
ZenNews uses the same technology as the company's Zensify social network aggregator to pull stories from its source list, index them, and weight them. It also incorporates the Twitter micro-blogging service to boost the weighting of stories that users are tweeting about. All of this happens in real time, so the stories that appear on ZenNews can change from moment to moment.
The result? A visual cloud tag of topics, where more heavily weighted stories get prominent play. You can drill down through the tag cloud as well—if a tag has more than five stories, a tap brings up a second group of tags associated with that story. Tapping the "obama" tag, for example, calls up tags like "nobel," "orleans," and "pakistan."
ZenNews also offers a list view that provides a headline and abstract of each story tag. Zensify believes that the abstract should give users enough of an overview for each story, but you can tap on the abstract to read the full version in an embedded browser. Buttons within the browser let you share the story by Twitter or e-mail.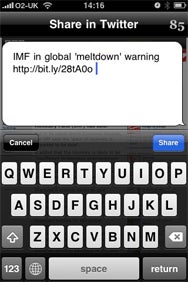 ZenNews ships with 12 sources, including the BBC, New York Times, Washington Post, Al Jazeera, and others. Swiping from side to side takes you from the aggregated view of the ZenNews page to the tag clouds for the individual sources. That gives users a chance to compare the coverage of a story from source to source, Campbell says. (Al Jazeera has precious little to say about Thursday evening's Phillies-Dodgers game, for example.)
The developer promises to add three other sources to ZenNews—The Australian, China View, and Ha'Aretz. But users who want to add their own news feeds are out of luck, at least with this version. "We wanted an application that you didn't have to configure out of the box," said Campbell, adding that some customization could be introduced in future updates.
In addition to viewing stories by source, you can also sort by category. ZenNews offers 13 categories in all, from Art to World news.
ZenNews is a free App Store download that runs on any iPhone or iPod touch with the iPhone 2.1 software update. Ultimately, Zensify plans to use the features showcased in consumer apps like ZenNews to build custom business-to-business products that deliver business intelligence about a company's products, industry, and competitors.