Mi-Football has introduced a novel looking iPod speaker system shaped like a football in time for the Christmas shopping spend fest.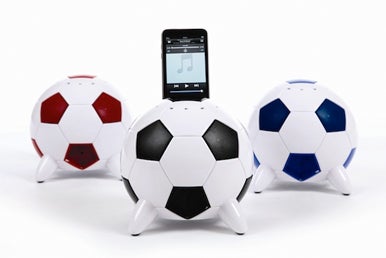 Currently available in three colours including traditional black and white, blue and white or red and white, the Mi-Football speaker can also be branded with the England badge or the crest of your favourite football club.
Compatible with all generations of iPods, iPod touch and iPhone, the Mi-Football has impressive sound quality promises the makers despite the novelty looks.
Operated via touch sensitive controls or a fully functional remote the Mi-Football also charges your iPhone or iPod whilst it is connected so you can celebrate that 5-0 thrashing long into the night.
The Mi-Football has a SRP of £69.99 (US$112), more details can be found at www.mi-football.com.