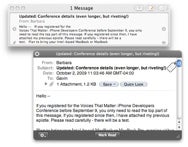 Is e-mail really a clunky medium past its prime, as the Wall Street Journal suggested this week? InDev Software is betting the venerable method of electronic communication is not quite passé yet. The Montreal-based developer has announced the acquisition of MiniMail, a popular Apple Mail plug-in developed by Olive Toast Software.
MiniMail, which Macworld reviewed back in July 2007, can shrink the Mail window to a small preview pane—kind of akin to iTunes's mini-player window. The MiniMail window offers users a glimpse of new messages while they have other applications open.
Fans of the plug-in will cheer the news that InDev plans to release MiniMail 2 by the end of this month and will ensure full compatibility with Snow Leopard. InDev already offers two other Mail plug-ins: MailTags, which allows a GoogleMail-style labeling of messages, and Mail Act-On, which enables keyboard shortcuts to organize email. InDev plans to enhance integration between MiniMail and its other plug-ins.
MiniMail 2 will be available to new users for $13 and to upgraders for $5. InDev's current customers will be able to get MiniMail for $9.