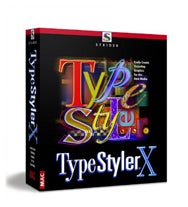 After seven years of development, Strider Software says it's shipping an OS X version of TypeStyler.
The desktop publishing application, which let users customize and create special effects with any PostScript or TrueType font, had been a favorite of Mac users in the days before OS X. And while version 3 of the program continued to work under OS X's Classic environment, a long-promised fully native version never materialized.
That changed this week when Strider Software announced that TypeStyler for Mac OS X is now shipping. The new program is more than just a port of version 3. Strider says it takes advantage of OS X technologies such as Unicode, Core Image, OpenGL, QuickTime, and Quartz. The textual graphics creator also introduces all the features of Strider's PosterMaker product, according to David Stillman of Strider Software.
"We have added lots of new styling effects, body-type text containers in addition to TypeStyler's headline type," Stillman said in an e-mail to Macworld "Our new 3D Visualizer adds the ability to view documents or layouts on 3D objects such as boxes, bags, bottles, jars, cans, spheres and more."
TypeStyler for Mac OS X runs on PowerMacs with Tiger and Leopard installed as well Intel-based Macs running Leopard or Snow Leopard.
A download costs $180, with a boxed version and printed manual available for $200. Owners of previous versions of TypeStyler can upgrade to the new release for $100—unless you bought the app after 2003. In that case, you should contact Strider directly, as the company says the upgrade price will be the difference between the cost of the upgrade and what you've already paid.