Perhaps one of the scarier things you can imagine as October 31 nears is an iPhone (or iPod touch) devoid of spooky, Halloween-themed apps. Fortunately, we've braved the fearsome corners of the App Store to identify which apps will help you celebrate All Hallow's Eve, and which are just scarily lame.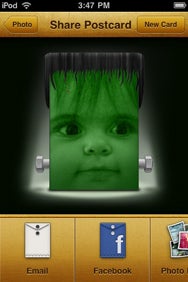 Halloween ~ Postage is the $1 baby brother of RogueSheep's Postage, which I still maintain is a truly perfect app. The Halloween edition includes eight delightfully spine-chilling themes that you can make into custom postcards with just a few taps.
It's fun and easy to place your photos into the different layouts; I appreciated that the Frankenstein-esque template tinted by 10-month-old's face green by default. Once your boo-tiful creation looks ready to go, you can e-mail it, save it to your iPhone's photo library, or post it to Facebook.
Frankly, if you can find four more bucks to spend, you should just go for the original Postage, which includes the Halloween templates plus about 60 others, and is a (trick or) treat to use. But even this slimmed-down Halloween version from RogueSheep works wonderfully.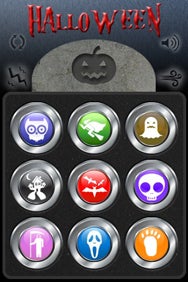 Less remarkable—though certainly loaded with kitschy fun—is the creatively-named app Halloween. It's a $1 soundboard from Smudge Apps that functions a lot like one of the App Store's numerous fart apps, only featuring sounds of terror and ghostly mayhem instead of flatulence.
In addition to nine push-button sound effects (screams, bats, a witches cackle), Halloween comes with other looping sounds, too: An original scary music soundtrack, ominously blowing wind, and thunderclaps (complete with lightning flashes on your screen).
My favorite feature, however, is the "bone-chilling hidden secrets" mentioned in the App Store description. Let a friend play with the app for a moment, and before too long they'll be startled by an on-screen surprise. All in all, this a cute but forgettable app.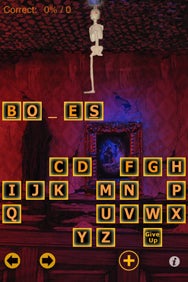 Halloween Experience, another $1 app, also falls into that "cute but forgettable" category. The app encompasses several Halloween-themed activities: You can customize a Jack-o'-Lantern by dragging various elements onto a pumpkin, rotating and resizing them to your liking. (There's no way to share your virtual carvings, though, unless you take a screenshot.) Halloween Experience also includes a countdown to the 31st, a macabre game of hangman (with a particularly gruesome skeleton as the one getting hanged), and an oddly out-of-place puzzle game. All these activities are played against an appropriately chilling soundtrack.
While each element works, there's not much to love about this Energize Software app; it feels pretty disposable.
Halloween Deluxe—currently free—also takes the hodgepodge approach to ghostly fun, but fares better than some of its competition.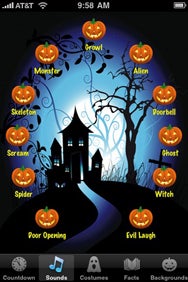 The app sports (yet another) countdown to Halloween, and (another) sound board, both of which are great at what they do. The "Costume Ideas" tab lists hundreds of costume suggestions, across categories like Kids, Sexy, and Couples/Groups. (Mercifully, that's three separate categories, not one inappropriately creepy one.)
Also available are random bits of Halloween trivia, most of which are disappointing: "The Oxford English Dictionary dates the first appearance of the word vampire in English to 1734." Unique to Halloween Deluxe amongst all the apps I reviewed, though, is the Backgrounds tab, which showcases a dozen beautifully drawn images you can save to your iPhone's photo library and use as your wallpaper. For a free app, Schatzisoft's Halloween Deluxe packs some nice Halloween fun.
While Halloween Deluxe just lists a few hundred costume ideas, two other apps devote all their energy toward helping you pick the perfect costume this year. Halloween Costume Generator ($2) and Costume Ideas – Halloween ($1) approach the task of finding you the right costume pretty differently.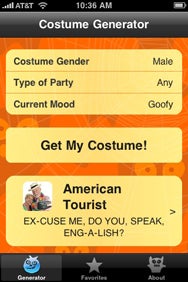 Synthetic Bit's Halloween Costume Generator features a grim, organ-based soundtrack. You pop in 3 fields—gender, type of party, and current mood—and the app spits out a costume idea, like "American Tourist" or "Drunk Santa." Tapping on the costume photo leads you to a helpful screen that tells you what materials you'll need, and precisely how to pull it off. The app has a sense of humor; each costume has an associated "soundtrack" that you can tap to preview in iTunes. (The "Michael Phelps" costume is, of course, linked with "Smoke on the Water.")
The other app, Costume Ideas – Halloween from More Blu Sky, asks fewer questions: You provide your gender and whether you're a kid or an adult, and the app provides a costume name ("Zombie", "Michael Jackson Thriller"). You don't get a photo, or any other details about how to make the costume happen, and without even the minimal filters that Halloween Costume Generator offers (especially mood), the costume ideas are entirely random.
Armed with the right apps—my favorites are Halloween ~ Postage, Halloween Deluxe, and Halloween Costume Generator—your iPhone can help make this season of ghosts and goblins a bit more fun. Not as much fun as buying heavily discounted candy on November 1st, but fun nonetheless.
[ Lex Friedman is a frequent Macworld contrib—BOO! Scared ya!.]