Businesses are increasingly researching prospective employees on the Internet. So why not direct them to a Web site designed to promote your best work? That was my thought when I embarked on creating a site to showcase my freelance writing.
But, building a self-promotional site is surprisingly difficult. You know yourself and your professional history, but how can you best convey that information to others who don't? Creating a site in iWeb is easy and fun and the following are some simple steps that I took.
1. Plan your site. Prepare your assets, such as screenshots of your work or PDF files of your resume and work samples. Gather a list of bookmarks related to work you've done online, sites that feature you or your work, and even sites that you visit for news about your field. This almost goes without saying, except that I too had to remind myself to plan first before launching into page creation.
2. Start building. Create a new site that's separate from any personal sites you may already have. Select File -> New Site, and choose a professional-looking theme that gives you maximum flexibility (Elegant, Black, White, Modern, or Gazette can be good choices for professional sites). Try using iWeb's About Me template as your home page. Revise or delete inappropriate placeholder text and images, and even placeholders themselves, if they don't suit your purpose.
3. Make media matter. Even if you aren't an artist or musician, you may have media that can help sell your qualifications, such as photos of yourself, your completed projects, or audio or video of events you've participated in. Import these files into your iPhoto, iMovie, and iTunes libraries so they're readily on hand. To add a photo gallery, select File -> New Page and pick the Photos page in your theme. Drag pictures into the page, and edit captions below each preview. Note that although you can use iWeb's Mask feature to crop images, emphasize the parts that you want, and create decorative shapes and borders, any other kind of editing must be done in iPhoto ( ) or another image editor first.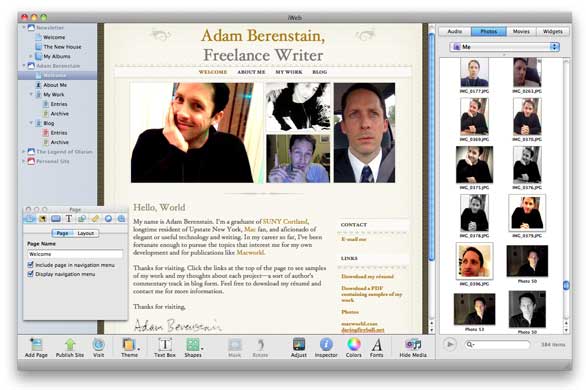 4. Start a blog or podcast. If you don't have media appropriate to your profession, consider creating some. A journal of experiences and insights related to your work can show your interest in the topic, broaden your practical experience, and attract visitors with whom you can network and exchange ideas. Select View -> Show Inspector and familiarize yourself with the Blog & Podcast inspector. You can edit your podcast's credits, allow visitors to comment on your blog (if you're publishing with MobileMe [ ]), display a search field, customize how images appear, specify the number and length of excepts per page, and much more.
5. Edit and add interactivity. Avoid typos by selecting Edit -> Spelling -> Check Spelling as You Type. Misspelled words will appear underlined in red. To add links to the PDF sample files and Web sites you want to call out, select the text or object you want to link, click "Enable as a hyperlink" in the Link inspector, and choose "A File" or "An External Page" from the pull-down menu (check the "Open link in new window" box to ensure your site remains open in the browser). Note that links also let visitors send you e-mail directly from your site.
6. Personalize your domain. The URLs iWeb generates don't exactly stick in people's memory, and may even seem unprofessional. A domain name related to you or your goals might serve your job search better. Sites like GoDaddy or Network Solutions offer modestly priced personalized domains.
7. Publish. First save all your pages. Then, select your site in iWeb's sidebar and select File -> Publish Entire Site. Review the site thoroughly to make sure everything works correctly before adding your new URL to your resume. Keep your site fresh by adding new content and links as often as you can.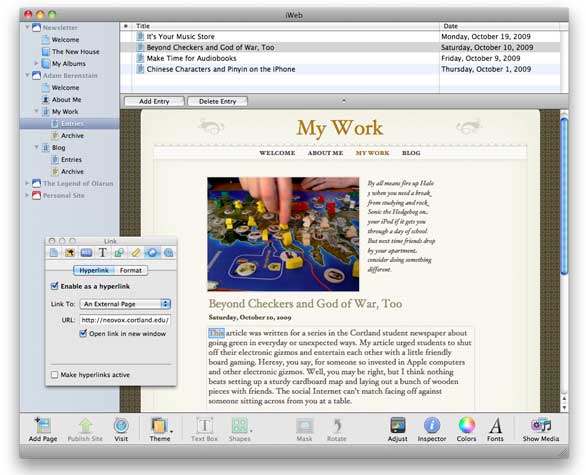 Adam Berenstain is a freelance writer based in upstate New York.