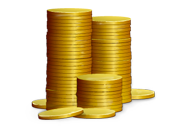 It is no secret that the worldwide economy isn't in the best of shape. While I'm sure we could argue for days on end what got us all into this mess (I, for one, blame someone other than myself) there are some bright spots. A.T. Kearney, a management consulting company that moonlights as a compiler of bloggable lists of companies, has just released the name of the 25 companies it deems Global Champions for 2009.
What does it take to become a Global Champion? While I would like to imagine it involves an arena with a sand floor to sop up the blood, it's a little less dramatic than that. A.T. Kearney took a look at the world's 2500 largest companies' performance over a five year period (2004 through 2008) and the top 25 companies, in terms of return, are anointed Global Champions. And who do you think checks in at number one? That's right: Nintendo!
However, Apple is a respectable number three and the only other electronics company on the list (as well as the only computer company in the mix). With Mac sales on the rise, people loving their iPhones, and those wizards in Cupertino working on the next great thing, it seems safe to assume that Apple won't be kicked off the Global Champion list any time soon.
Snag a copy of the full report to read all the nitty gritty details for yourself.