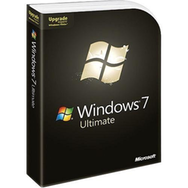 Apple announces quarterly results on Monday and Windows 7 comes out just days later, which means it's gut-check time again. Some fret about Windows 7, but Phil Schiller ain't one of them (shocking footage at 11!). Apple may be ready to fire back with more Windows-jabbing ads and maybe Michael Dell can help out with an unintentionally-backhanded compliment for Microsoft's latest OS.
Crisitunity
None other than Piper Jaffray's Gene Munster says Windows 7 will curb Apple's market share growth.
"I think Windows 7 is the biggest challenge to Apple in years… In some ways, [Apple] had a freebie in recent years, given what a fiasco Vista was. But Windows is something different."
This may be true, but it's over-simplistic. You have to look at who's upgrading. Windows 7 will probably be a roadblock to Apple gaining more business customers, but if they were waiting this long they were probably never going to switch anyway. And home users who've already updated to Vista are probably going to jump on Windows 7 like Jay Leno on a balloon boy joke.
But what about home users who are still on XP? When they have to go through a full reinstall to get up and running, Apple's Phil Schiller thinks it's a foot wearing a stylish hipster sneaker in the bare aluminum door frame of the Windows market.
So much work could leave PC owners ripe for the picking, in Schiller's estimation. "Any user that reads all those steps is probably going to freak out," says Schiller. "If you have to go through all that, why not just buy a Mac?"
As long as they've got all their stuff in those boxes, why not move to a better neighborhood?
Heyyy, wait a minute. That's what the Macalope's been saying! Get your own material, marketing boy.
Read more…
We'll always have making fun of Windows
The Macalope hopes you're not one of those people who wish Apple would just "get over" its OS rival because it looks like more jabs at Windows are on the way.
In the coming weeks, Apple is expected to hit those computer buyers with advertising aimed at luring them to its Macs. It will likely make the case that Macs are less susceptible to viruses and are best suited to its popular iPods and iPhones. And look for it to poke fun at Microsoft for making XP owners go through an arduous process to upgrade to Windows 7—one that includes backing up all their files to an external drive, reformatting their PC, and then reinstalling all of their old programs, assuming they still have the CDs.
Looks like the Macalope was right when he thought that, despite good reviews for Windows 7, Apple might still be able to make some hay with it. As he said in August, "The Macalope himself gave Windows 7 some credit above, but it still forces a lot of users to make some uncomfortable choices. If you need any help writing those ads, Apple, just give the pointy one a call. (They don't need any help.)"
He, uh, never did get that call.
Possibly because he's not listed. Which, unfortunately, is part and parcel of the whole "mythical beast" image. Minotaur? Unlisted. Yeti? Unlisted. Non-gay single male in the Castro district? Unlisted. It's kind of unfortunate because, as lovely as it is to get checks from Macworld, the horny one suspects the people who comes up with those ads for Apple get paid a little bit more.
Any-hoo, since the Macalope's just giving these ideas away, maybe Apple should also look at performance. Dong Ngo at CNet says that for everyday tasks, Snow Leopard is significantly faster than Windows 7. Gaming, however—territory which Apple has long since ceded to PCs—is the one area noted where Windows 7 outpaces Snow Leopard. The Macalope guesses Microsoft Office probably runs faster on Windows 7 as well.
But PC gaming and office apps are so 1990s. You might be able to say Microsoft has finally shipped a decent upgrade to XP if you could actually upgrade to it from XP and if it weren't still optimizing like it's 1999.
Even a broken clock
Someone page Snoop Dogg, because it's time for another edition of Technology Industry Execs Gone Wild! Watch the grainy footage as Michael Dell lifts his shirt and says some things he'll probably regret after the tequila wears off! Speaking on netbooks, Dell said:
"A fair amount of customers" have been unsatisfied with the smaller screens and lower-performance parts, he said later. "For a replacement machine or for a high-end machine, it's not what we'd recommend."
They were somewhat surprising remarks given that Dell sells a line of netbooks on its Web site.
Yes! That is surprising, isn't it?! "Don't buy this entire line of stuff we sell! It's crap!"
For Windows 7 he was more enthusiastic. "If you get the latest processor technology and you get Windows 7 and Office 2010, you will love your PC again," Dell said. "And we actually have not been able to say that for a long time. It's a dramatic improvement."
Wow! If users shell out for the top-of-the-line hardware, they'll love their PC again! Please take us back, PC users! We promise we'll be better this time!
Michael Dell is off his medications! Who knows what unspoken truths will come out of his mouth?! "Our products suck! Windows 7 is great if you spend a lot of money! Soylent green is made of people!"
Sounds like someone just looked at his margin numbers and asked "Why the hell are we selling these stupid netbooks again?" Well, in Dell's defense, who knew that netbooks were a sucker's bet?
Oh, wait, that's right.