I turned 37 years old this year, which—as comedian Patton Oswalt would tell you in a stand-up routine a little too blue to link to here—is not a real birthday. Nevertheless, the Walt Disney Corporation gives you free admission to one of its theme parks on your birthday, and being an overgrown child at heart, I took the company up on its generous offer.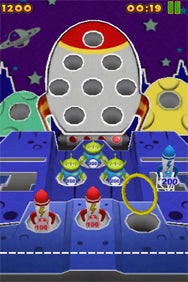 Instead of Disneyland, however, I used my free admission to get into Disney's California Adventure, which I prefer over the Magic Kingdom for a couple reasons. First, they serve wine and beer at the California Adventure, and it's always a thrill to raise a glass to Uncle Walt while knowing that he's probably spinning in his cryogenic chamber in the Great Moments With Mr. Lincoln exhibit at the thought of someone drinking alcohol in one of his theme parks. And second, the attractions at California Adventure—Roller coasters! High-speed turbulent flume rides! Muppets!—are far more to my taste than spinning teacups and audio-animatronic Disney characters.
To that end, California Adventure introduced a new ride this year— Toy Story Midway Mania. Featuring the characters from the eponymous Pixar movies, Toy Story Mania is an interactive ride in which you participate in midway-style games from the comfort of your vehicle, racking up points in such carnival mainstays as the ring toss and the shooting gallery (only with a Toy Story-style twist). I think I enjoy that ride more than breathing. And I am awfully fond of breathing.
The iPhone app developers at Walt Disney have whipped up a mobile version of Toy Story Mania for the iPhone and iPod touch. It may not match the theme park ride thrill for thrill, but it's a pretty good offering in its own right. And at $5, it will run you about $67 less than the price of admission to Disney's California Adventure. And you won't even have to stand in an hour-long line.
The Toy Story Mania app features the same set of carnival games you'll find in the theme park ride: Buzz Lightyear's Flying Tossers (a ring toss game); Bo Peep's Baa-loon Pop (darts); Green Army Men Shoot Camp (a plate-breaking contest); Hamm 'n Eggs (target-practice with eggs you shoot out a slingshot); and Woody's Rootin' Tootin' Shootin' Gallery (target-shooting with suction cup darts). So essentially Toy Story Mania gives you a collection of five mini-games.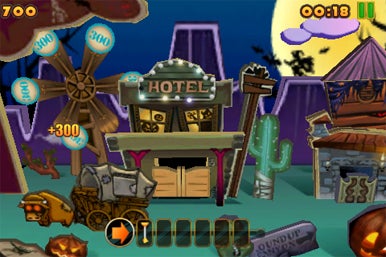 Adding to the variety, each game has its own set of controls. You slide your finger back to fire off eggs at the barnyard targets in Hamm 'n Eggs, while you slide your finger forward to toss rings over The Little Green Men in the Buzz Lightyear installment. The plate breaking game requires two fingers—one to aim, and the other to fire. The Woody and Bo Peep game both make you tap the targets you want to shoot, but you reload differently. In Woody's game, you slide your finger to reload after six shots; the balloon pop requires you to give your iPhone or iPod touch a shake to reload. The different controls really keep things from getting stale.
You'll also find a bit of variety within the games themselves, which consist of five stages plus a bonus-round. Each stage has a different objective, though. Sometimes, you've got to rack up a set number of points within a specific time limit. Other times, you've got a limited amount of eggs, darts, rings, or other ammo to meet a predetermined point total. And then there's the stages where you have to clear all the targets off the screen before time expires. It really keeps you on your toes.
Clear one stage, and you move on the next, winning tickets based on the points you've racked up. You can redeem those tickets for prizes that you unlock during the bonus stage—different backgrounds, weapons, and extremely valuable scoring bonuses. Fail to clear a stage? Well, then the saddest song I've heard plays—honestly, it sounds like something Russian peasants would moan as they flee the Cossacks—while Toy Story Mania tells you it's game over. Woody and the gang don't even pop up to wave you goodbye; they're clearly sickened by your failure. (Fortunately, Toy Story Mania is very generous with its retry button, allowing you to replay the stage you've biffed instead of starting from square one.)
Each of the five games features an easy mode at first. Clearing the five stages in Easy mode unlocks Normal mode, while clearing the next five stages unlocks Hard. Easy is easy enough for small kids to enjoy; Hard is actually pretty difficult—challenging enough, in most cases, without being impossible to conquer. If you'd prefer to skip by the stage-by-stage theatrics, Toy Story Mania lets you play individual stages. You won't win any tickets or notch any high scores, but it is great for practicing.
As you play, the strains of "You've Got A Friend in Me" from the Toy Story movies plays. In a rather clever touch, the music takes on the atmosphere of the game you happen to be playing—the Green Army Men game gives it a martial tone, for instance, while it sounds countrified in Woody's shooting gallery. Be warned, though—the song repeats over and over again, until it's clawed its way into the deep recesses of your brain. You may want to use Toy Story Mania's options screen to turn off the music, lest you find yourself humming it uncontrollably for the rest of your life.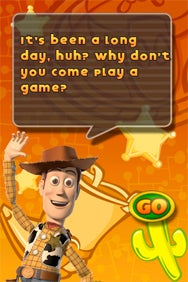 Do not turn off the sound effects, however, as they really add color and character to the game. Toss an egg at the animal targets in Hamm 'n Eggs, and you'll hear appropriate noises when you score a direct hit—the ducks quack, the horses whiny, the cats yowl in protest at your marksmanship. And I'm reluctant to admit this in a public setting, but the reassuring click-clack noise that occurs when you reload in the Bo Peep and Woody games is among the most satisfying sound I've ever heard in a game. Get ready for some popping, sheep-shaped balloons—Daddy's loaded up and ready to fire.
As much as I enjoy Toy Story Mania—and the only reason I'm not playing it now is that I have to type this sentence—there's a fairly significant problem with the game. The controls Buzz Lightyear's ring toss game are nearly impossible to master. You're supposed to slide your finger forward to mimic a ring-tossing motion. But you've got so little real estate in which to operate, you usually wind up badly missing your target—if the game even recognizes that you're trying to shoot in the first place. Many's the time, I've slid my finger forward without tossing a ring at all. After a few frantic and equally fruitless slides—with targets dropping out of view and precious seconds ticking away—inevitably, I'll angrily slide my finger forward and launch a ring to infinity and beyond. I end up hating not just Buzz Lightyear's Flying Tossers, but everything associated with the game—the Toy Story movies, Pixar, Tim Allen. I'm pretty sure this is not the game maker's intent.
On a less aggravating note, the game really doesn't have a multiplayer mode, other than handing your iPhone over to friends to see if they can match your prowess at popping balloon animals or shattering plates. (Even then, other players will get to enjoy the fruits of your unlocked levels, and should they get a high score, they'll have to erase your name, which is pre-entered by default.)
All that aside, Toy Story Mania is a great collection of games—fun for children of all ages, as they say on the carnival midway. It's definitely worth a download as well as a hearty toast the next time I find myself downing a glass of merlot at the California Adventure park under Walt Disney's disapproving glare.
[Macworld.com executive editor Philip Michaels rode the Toy Story so many times during his last visit to Disney's California Adventure that he should have just re-routed his mail there.]