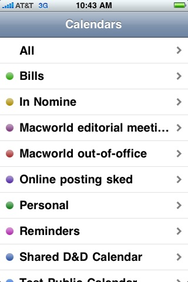 A few weeks back, I found myself seated at a table at C4, the Mac indie developer conference, in Chicago. The topic, as it so often does, had veered to the iPhone—in this particular case, the shortcomings of the device's Calendar application. One of my co-attendees complained about the lack of subscribed calendars—calendars where the events are retrieved from over the network—on the phone, a gripe that was quickly echoed by several others.
Having spent quite some time embedded deep within the stygian twists and turns of iPhone 3.0, I happened to know this was a possibility. And then it hit me: if these folks—clever developers, many of whom write software for the iPhone—didn't know about this feature, it was a safe bet there were plenty of others who didn't either. In fact, there were probably a lot of things people didn't know about the iPhone: about what it could do, or about how exactly to do the things it can do.
And thus we launch iPhone Tips, a new recurring weekly feature, somewhat in the vein of my colleague Rob Griffiths's Mac OS X Hints blog (culled in turn, of course, from his excellent all-things-tip site Mac OS X Hints).
So, back to subscribed calendars. They're a little tricky, because there are a few different ways of dealing with them. By default, they don't sync from your Mac to your iPhone—unless you're a MobileMe subscriber. If you're not, you still have a couple of options, the easiest of which is that you can sync them via iTunes. The downside to that method is that if the calendar changes, you'll have to wait until the next time you plug in your phone to see the updates.
There is, however, another solution: you can subscribe to a calendar directly from your iPhone.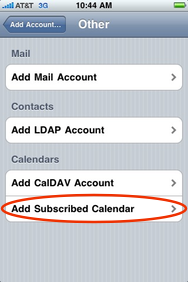 Apple mentioned this feature only in passing when it surfaced in iPhone OS 3.0. The trick is that it's shelved deep under the confusing hierarchy of Settings -> Mail, Contacts, Calendar -> Add Account -> Other. You'll see two Calendar options there: Add CalDAV Account and Add Subscribed Calendar. The former lets you add an account for an online service that uses the CalDAV standard, such as Google Calendar. The second is the feature we're looking for, which lets you subscribe to a single online calendar published in the .ics format.
You'll need to enter the URL of the calendar you wish to subscribe to (copy-and-paste is your best friend here); once you've done that, the calendar will show up in your iPhone's Calendar app. (You may need to tap on the Calendars button in the top left hand corner in order to find it, though).
There's one exception to this, as well, and that's the special "Birthdays" calendar that you can turn on in iCal and the MobileMe Web interface. Technically, it's displayed as a Subscribed calendar, but iCal automatically generates it by pulling dates from your Address Book records. Even if you turn it on in both iCal and MobileMe's Web calendar, you still won't be able to see it on your iPhone. For that, try this tip: enable the Birthday calendar in iCal, then publish it to MobileMe or your own WebDAV server. Then you can subscribe to it on your iPhone using the tip above.
And that's our first iPhone tip. Expect to see more in the weeks to come. If you've got a particularly good tip you'd like to share, feel free to e-mail us at iphone@macworld.com with the subject line iPhone Hint.