Sports Cards from Alanna Webb is a set of more than 60 frames for your iPhone photos, making your pics look like trading cards. You can add a Sports Cards frame to an existing photo in the library of your iPhone or second-generation iPod touch, or you can snap a new photo with the iPhone's camera for the frame of your choice.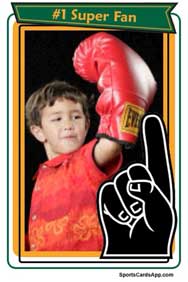 The frames cover the popular youth sports, including soccer, baseball, basketball, and football. There are also frames for hockey, volleyball, cheerleading, bowling, golf, and darts.
The frame designs are reminiscent of 1970s and 1980s sports card designs. You can even say they have that arts-and-crafts type of feel, like the templates you might find in a page design Mac program like The Print Shop. If you're looking for a look more along the lines of Upper Deck or Topps, you won't find it here. Sports Cards is more folksy than bold.
Unfortunately, you can't customize the front of the cards. The fronts have phrases like "All Day," "#1 Super Fan," or even "baseball and hot dogs," and you can't edit those phrases, nor can you add a player name or team name to the face of the card. Such information can only be added to the back of the card, and then you're limited to only 18 characters and spaces each for the person's name and nickname, and 15 characters and spaces each for the team name and position/award. For the devoted athlete, there's no formal way to add player statistics. Sports Cards provides a blank space for "Your Text" that you could use to enter some unformatted statistics.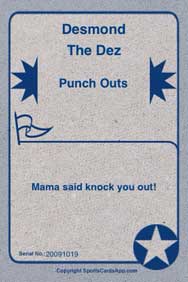 Once you place a photo into a frame, you can save it to your iPhone's Photo Album and then send it as an e-mail attachment. If you're interested in printing a card, you'll need to send the front and back to your computer, and then figure out a way to print a two-sided card using an image-editing program or some other desktop application.
Sports Cards provides basic tools for designing your own sports cards. There are a large variety of frames, but very little customization options. Sports Cards Lite is available for free, offering 30 frames.
[Roman Loyola is a Macworld senior editor.]