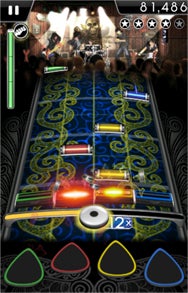 Music game fans hoping to take their plastic instrument playing skills on the road can rest easy. EA Mobile has released the iPhone and iPod Touch version of its console title, Rock Band, the game that allows you and your friends to strum, smash or sing along with your favorite songs.
As first revealed last week, this version allows you to use two to four iPhones (of the 3G or 3GS varieties) to play in the same room, via Bluetooth. Now you can play Rock Band anywhere you like without having to lug around the game disc, instruments, TV, game console, cables, and willingness to look silly in public. Just download the app from the App Store, put your phone in your pocket, meet up with your friends, and you're ready to go.
If you don't have any friends who are down with pretending to play music, no worries! You can seek out fellow fake drummers, fake guitarists, and fake singers over Facebook, then rock out with them over Wi-Fi. After you've put together a band, you can continue to organize sessions with push notifications and use the in-game message center to send invites and get updates on your band's status.
The game includes 20 MP3-quality rock songs and five $1 song packs are available immediately from Rock Band's in-game music store with more to come. Rock Band requires iPhone OS 3.0 or later and costs $10.