Ultimake's MyPhone+ for Facebook is a souped-up dialer app for the iPhone. The gimmick here is a social networking facet. The app synchronizes with your Facebook account, pulling in photos and other information—addresses, birthdays and job titles—from your friends on the popular networking site and linking them with contacts in your phone's address book. You can call your pals on the phone, send them a Facebook message or write on their Walls directly from the app.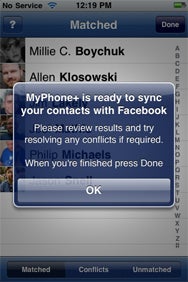 MyPhone+ is smart. (Or, at least the guys who came up with the algorithm are on the ball.) For example, if your Phone's contact entry is James Smedley, and your friend's Facebook name is Jim Smedley, the app will make a reasonable guess that the two are one and the same. The app will also show you which of your contacts are not on Facebook—at least, not as far as you know.
You can customize MyPhone+ to a certain extent. The app lets you adjust the quality of the images it imports, and lets you choose whether or not to overwrite existing information in your contact lists. But, oddly, you cannot edit your contacts from the app.
By far the slickest feature on MyPhone+ is the visual contact list, which displays the names and pictures of your favorites. Tap a picture, dial a number—just the thing for our visual, post-literate age. You can also view contacts by their birthdays (although this feature pales in comparison with Occasions, with its push notification reminders.) The app's search function is a little strange—you need to shake your phone to pop open the search field.
Even if you aren't looking for a dialer, MyPhone+'s easy synchronization with Facebook makes it a highly useful utility for the social networker on the go.
[Ben Boychuk is a columnist and freelance writer in Rialto, Calif. Feel free to e-mail him.]