The United States is in the middle of the global pack on broadband infrastructure and is forging a very different upgrade path than the rest of the world, according to a new report (PDF) by Harvard's Berkman Center for Internet & Society. The report was commissioned by the Federal Communications Commission, as part of its mandate under the American Recovery and Reinvestment Act to create a new plan for national broadband access and improvement.
The report is extremely dense, and serves as a graduate-school level overview of the global state of broadband usage; more casual readers may prefer a Harvard interview with the primary author, Yochai Benkler.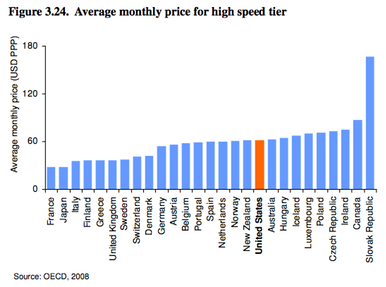 Among the key findings of the report, the Berkman Center confirmed previous studies that put the U.S. in the third quintile (i.e., ranking in the middle fifth of all countries) of broadband penetration, usage, available speeds, and pricing of Internet connectivity.
In addition, the U.S. is forging its own way in government regulation, leaving competition to existing monolithic providers; in most American markets, you can choose between your cable provider or your DSL provider for wired broadband. Other countries in the study, which covered members of the Organization for Economic Co-operation and Development, use a stricter regulatory regime that forces open access to broadband infrastructure, which in turn generally creates competition on the same set of physical wires.
Heavy Internet users in the U.S. who don't wish to have an obsessive desire to move to Asia should probably skip reading this report, so they can continue to live in happy ignorance; broadband access there is blisteringly fast and pathetically cheap. Most European countries also beat the United States in availability of public Wi-Fi access points. (Anecdotally, I've heard for years that the U.S. is the best place to find free Wi-Fi, especially compared to popular conference cities like Geneva; I haven't yet read deeply enough into the report to find a measurement on this.)
Finally, in general, Americans pay through the nose for fast Internet connections, but we're in the global average for dial-up and lower speed fixed access.
The FCC is expected to base future rulings upon the conclusions in this report, and is soliciting public comment on its findings.