At a Glance
Expert's Rating
Pros
Enhanced data entry options
Excellent print-to-PDF tool
New tag explorer
Cons
No nested folders or smart collections
Our Verdict
Yojimbo, Bare Bones Software's application for storing and managing digital snippets of information and small pieces of data like text or images, has been updated to version 2.0. Yojimbo can sync across multiple computers via MobileMe and integrates with Spotlight so you can search its contents from the Finder. Version 2 adds some welcome flexibility without losing focus on the product's purpose.
Fundamentally, Yojimbo is about getting information into its database with as little interruption to your work as possible and getting it back out with a minimum of fuss. It can store rich text notes, images including PDFs, passwords, serial numbers, Web bookmarks, and Web archives. Getting that data into Yojimbo is primarily done using the Drop Dock and the Quick Input Panel, both of which have become more useful in version 2.
The Quick Input panel is summoned with a system-wide keyboard shortcut (F8 by default). It examines your system's clipboard and guesses what kind of item you're adding to your Yojimbo library. In my testing, Yojimbo did a good job coming up with appropriate classifications. Images, text, serial numbers, bookmarks, and Web archives were reliably identified. Alphanumeric passwords were too, though passwords with punctuation were usually treated as plain text. Even so, it's easy enough to manually override an incorrect guess. The Quick Input Panel now features the ability to add tags and comments as the item is being created, negating the need to bring Yojimbo to the front and putting the "quick" in Quick Input.
Yojimbo's Drop Dock is a panel displaying the collections you've set up. Drag text or a file over the Drop Dock's tab and it slides into view. Release the file on the desired collection and it's added without bringing Yojimbo to the front. New in version 2 is the ability to toggle which collections are displayed in the Drop Dock. Previous versions included all collections which becomes unweildy as they proliferate. Still absent from the Drop Dock is a way to tag items on the fly like the Quick Input Panel can.
Perhaps the flagship feature of Yojimbo 2 is the tag explorer. With your library selected from the left-hand pane of Yojimbo's main window, the tag explorer on the right-hand side lists all the tags you've created. Click one of those tags and the list of items displayed is filtered to show only those with the selected tag. The list of tags in the explorer is also filtered to reflect only the tags in use for the items displayed. Each tag you click is added to the filter criteria, further refining your item list.
Bare Bones has improved Yojimbo's PDF service. Print from any application and choose "Save PDF to Yojimbo" from the PDF button on the print dialog. Yojimbo now presents a dialog box where you can name, tag, label, and flag the PDF before it's saved to the library. This new dialog box lets you tag the item as you create it, while it's fresh in your mind.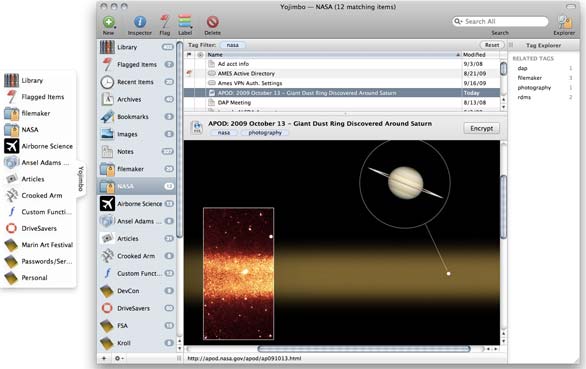 Macworld's buying advice
Yojimbo 2.0 is a well executed update with truly worthwhile enhancements. It may not have everything on your wish list (where are those nested collections and rule-based smart collections?) but Yojimbo handles information with aplomb and is top notch in its class.
[Stuart Gripman is a columnist for Advisor Basics of FileMaker Pro magazine and founder of Crooked Arm Consulting.]