Birdbrain is a very different kind of Twitter app. You can't post from it. You can't read your timeline from it. Instead, Birdbrain has a very specific goal: to allow you to view stats and "manage your Twitter network." At those tasks, XK72's $2 app for the iPhone and iPod touch does a very good job.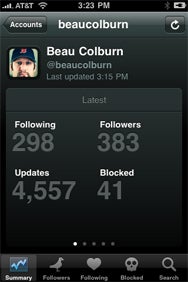 As Twitter grows, I find myself following more and more people and getting more and more followers in return. I like to keep an eye on who's started and stopped following me. If I suddenly start dropping followers maybe there's a reason—if so, I like to be aware.
You can get this basic information through the Twitter Website, and while Birdbrain offers the same info rolled up in an iPhone app, it also takes things a step further.
Twitter's site make it very difficult to see who has actually stopped following you. You can see the raw number, but unless you search user by user and look, you can't tell whether those five followers you lost were people you were interested in communicating with, or if they were just spam-bots that were cleared in a recent system cleanup.
Birdbrain has five main info panes that you can select at the bottom of the app window: Summary, Followers, Following, Blocked and Search. The first time you launch Birdbrain it take a "snapshot" of your Twitter stats at the time (number of updates, followers, followees, and so on). This data is date-stamped and saved. As you use the app, Birdbrain continues to collect data and adds it to a timeline on which you can compare the statistics. How many people am I following right now compared to two weeks ago? Did I have more followers a month ago than I do now? When viewing the Summary pane, you can swipe right to left—just like on the iPhone home screen—to scroll through these timelines.
The Followers and Following panes work in a similar fashion. They list the date top to bottom, and you can see the users that you either started or stopped following on that day (which is made clear by a "+" or "-" next to the username), as well as the users that began or stopped following you. It's a quick and easy was to see if those five followers you lost the other day are just spammers or not.
On top of being helpful, Birdbrain is also a very nicely designed app. The interface is attractive and easy to use, and the entire app feels well thought out.
The only downside to an app like Birdbrain is something that is completely out of XK72's hands, even though users should be aware of it. As Twitter rapidly grows and is inundated with spam-bots and the like, some of the statistical data can fluctuate wildly. This is usually because Twitter is working behind the scenes to clean things up, so the swings in data are not something Birdbrain can control, jarring though it may be. To the app's credit, it appears to handle these sudden changes well.
An app dedicated simply to keeping tabs on your Twitter stats may not appeal to everyone, but as more people use the microblogging service, and the numbers continue to grow, Birdbrain is a very handy way to keep on top of what's going on with your account.
[Macworld contributor Beau Colburn lives in Boston where he uses Twitter a lot.]