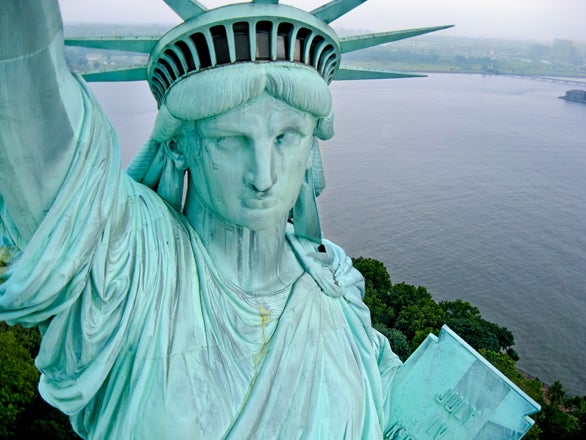 Scott Dunn captured this impressive aerial shot of the Statue of Liberty with his feet planted firmly on the ground. He did it by attaching his Canon PowerShot A570IS to a kite and floating it up 400 feet into the air.
Scott was photographing the Liberty Island Swim, an open water swim race in New York Harbor. Morty Berger, one of the race organizers, got permission from the National Park Service for Scott to photograph the swim from Liberty Island. Getting the proper clearance was required since the legal flying limit for large kites is usually 500 feet. Higher than that and you are entering into regulated airspace. This picture was taken in the morning, immediately after the swim race and before it began raining.
To lift the 7 oz camera, Scott used the powerful Dopero kite from G-Kites ($199). Before attaching valuable camera equipment, a kite needs to airborne and steady. If the kite is only flying at 50 feet, it may not be stable ebough to lift the camera. Scott flew his kite up to 200 feet where the wind was significantly steadier. Then he attached his camera set-up to the line and sent his kite up even further, to 600 feet, with the camera dangling below at around 400 feet.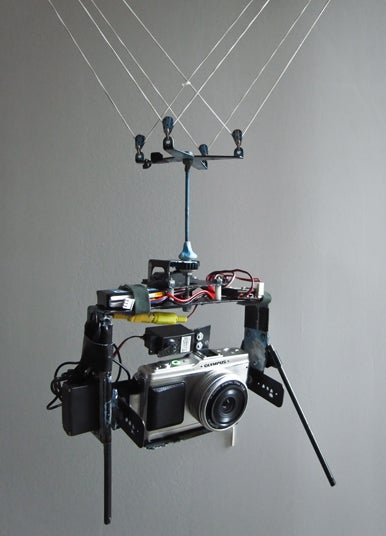 Many kite photographers use something called a Picavet to connect their camera rigs to the kite line. A Picavet is a small cross with pulleys that is suspended from the line like a hammock. The two points where the Picavet strings connect to the kite line are fixed and don't slide. Scott purchased his from Brooxes.com.
Below the Picavet, Scott's camera was secured inside a metal cradle connected to a GS-1 radio control servo with gyro stabilization from Dunehaven Systems. If the tilt of the cradle changed, the motor compensated to keep the camera pointing in the same direction.
Finally, there was a radio receiver attached to the cradle so that the set-up could be controlled from the ground. Scott used a DuneCam remote control to change the angle of the camera, to check small jpg previews transmitted from the camera, and to trigger the shutter when he was satisfied with the shot.
You can see more of Scott's aerial kite photography on his Flickr page.
Want to submit your own photo to our Snapshot series? Send the photo (or a link to the photo) and a description of how you got the shot to digitalphoto@macworld.com. Include the text "Snapshot" in the subject line. We'll pick our favorites and feature them on our Website. Chosen photographers will receive a free printed copy of our Digital Photography Superguide.