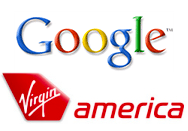 Virgin America and Google are teaming up to make holiday traveling more bearable. The search giant is subsidizing in-flight Wi-Fi service on the airline for the holiday season, from November 10 through January 15.
This isn't a huge discount—the usual pricing is $6–$13 for laptops per flight, and $6–$8 for handheld devices. But, seeing as how Virgin America qualifies as a budget airline, with many coast-to-coast flights at $100 each way, this is an added perk for folks looking to stretch their travel dollars.
I haven't flown on Virgin America (yet; I'm now sorely tempted for my upcoming CES and Macworld Expo jaunts), but based on the company's Wi-Fi FAQ, it's more clueful about providing customer service than many ground-based ISPs: Macs are specifically supported, and there's in-flight live customer support over Google Chat. Even better: power outlets at every seat. More details on the free offer can be found at Google's Free Holiday Wi-Fi site.