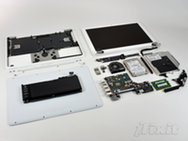 For those of you who are trying to fathom a MacBook with unibody construction that's not made out of aluminum, the folks at iFixit have obligingly torn theirs to neatly-ordered shreds. There's even a video, rated NC-17 for extreme violence to a perfectly innocent laptop.
You'll need a Phillips #00 screwdriver to remove the bottom of the case. Once you do so, the RAM chips are easily accessible, as is the hard drive—but you'll need a T6 Torx screwdriver to replace it, and transfer the screws to the new drive bracket. The MacBook battery is not intended to be user-serviceable and there's a warning sticker over one of its screws to really get the point across.
Also noted: internal speakers are in stereo; there's one under the Caps Lock key, another under the Return key. And the case bottom is aluminum, which leads me to wonder if unpleasant WiFi masking may occur when the AirPort base station is in the living room and the MacBook is in the upstairs bedroom. Antennas are in the display housing, so wiggling the screen angle should probably avoid any problems of that sort.
For more, check out our first look at the new MacBook. It'll whet your appetite for our full review, coming soon.