Rock Band redefined music games, becoming an overnight sensation that let you jam out to popular tunes with your friends. Without the fake plastic instruments, the shared embarrassment of turning you living room into a karaoke lounge, and the fun of playing music with your friends, what are you left with? The tapping monotony of the iPhone version of Rock Band from Electronic Arts. To wit: Rock Band for the iPhone does for the Rock Band franchise what Creed did for rock music.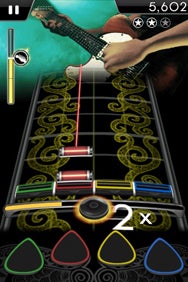 It's not that Rock Band for the iPhone is bad, it's just that it's disappointing. The game translates much of what made the franchise so exciting—popular rock songs from a variety of eras and artists—and then mixes in easy-to-understand controls, a sleek interface, and the alluring ability to play as one of four instruments (bass, vocals, guitar, and drums). You start off with 15 songs (including singles by Smashing Pumpkins, Foo Fighters, Blondie, and many others) and can then unlock additional songs or buy song packs in 99-cent installments through in-app purchases.
But as extensive as the song list is, and as beautiful as the game looks, Rock Band is fundamentally about letting the player feel like a rock star. Here, sadly, is where Rock Band gets booed off the stage.
The controls vary from predictable retreads to ghastly bastardizations. If you play guitar or bass, you simply tap the screen with your fingers at the appropriate time and earn extra points for enabling power boosts when you've collected enough energy. You can pause the game and pick up shortly before your next note—a nice accommodation to the short playing sessions of the iPhone.
But you'll see similar tapping interfaces in other apps—most notably Tap Tap Revenge and its many spin-offs—and it's disappointing that EA didn't choose to push the genre forward with true innovation. Why not mimic the strumming motion of the console game using the iPhone's touchscreen technology? Instead, look forward to tapping—not only on the bass and guitar, but on all four instruments. Perhaps more frustratingly, you can't even turn your iPhone horizontally and play that way—if your thumbs are too big to precisely tap the screen with a vertical alignment, you're out of luck.
If you're a vocalist, prepare to have your voice silenced. The original Rock Band's inclusion of vocals effectively transformed a silly distraction of hitting plastic toys into an addictive and engrossing party experience. Instead of transforming your iPhone into a microphone, Rock Band settles for a clunky horizontal streaming rhythm interface where you time your tap to when the vocalist should be singing. The iPhone's audio capabilities seemingly would be up to the task of tone recognition and the omission of a true vocal gameplay element is akin to removing the game's soul. Where is Rock Band without your friends' terrible impersonations of Joan Jett, Dave Grohl, and Billy Corgan?
All four instruments play tediously similar on the platform. Without the thrill of banging the fake drums or strumming the fake guitar/bass or singing into the microphone, the game is just another run-of-the-mill tapping musical rhythm game (albeit a very well produced one). Rock Band for the iPhone had the potential to turn your iPhone into four different kinds of instruments; instead it settled for predictable and tedious gameplay.
Rock Band for the iPhone boasts several modes to investigate and I use the word "investigate" intentionally because the menu system could use some rethinking. You can jump in and play any of the 15 songs that are already unlocked on any difficulty level and with any instrument.
But what is Rock Band without bandmates? You can play with friends via a Bluetooth multiplayer feature or recruit others to join you through an in-game Facebook menu. In the World Tour mode, you can play a solo tour and earn new songs, fans, and achievements, or select Play Online and either create a private game or join a random "open jam" game. But unless you're playing through Bluetooth locally, you won't see how your teammates are doing until the final scores are revealed—severely undercutting the "teamwork" aspect of the game.
Perhaps it's unfair to criticize a game for not living up to the lofty expectations produced by its console origin. As is, Rock Band for the iPhone is a perfectly acceptable tapping rhythm game that—like a Nickelback song—lacks originality. Pray to the rock gods that EA decides to create an update with real vocal abilities and improved controls.
[If assistant editor Chris Holt's cubicle is a-rockin', don't come a knockin'.]