There's more to Halloween than just picking out a costume and making spooky noises—there's also the not-insignificant matter of fun and games. Continuing our look at some of the Halloween-themed iPhone apps filling up the App Store's virtual shelves, we turn our attention to a handful of games with a decidedly sinister spin.
Halloween Chicktionary is a $2 word game from Blockdot. It's a seasonal sequel to Chicktionary (also $2), and plays essentially identically to its predecessor. Both games play as passable TextTwist knockoffs. You're presented with seven chickens, each of whom holds an egg with a letter on it. You've got to tap the eggs to spell out as many words as you can with the letters given.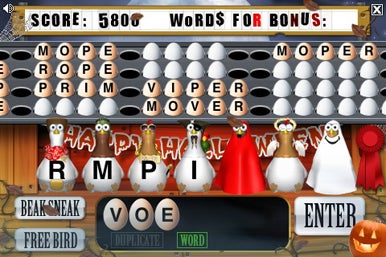 The Halloween edition of the game decks the chickens out in costumes, and the soundtrack incorporates some traditional haunting sound effects. While the Halloween elements are minimal and feel tacked-on, that doesn't detract from the fact that this is a fun game. You can play in one of two modes: In Speed Play, you get three minutes to find as many words as you can, and in Long Play, you get all the time you need, with potential bonuses for accurately predicting how many words you'll find during the first two minutes.
Two clever bonuses add a twist to the game: You can trigger "Free Bird" to reveal a single word, and "Beak Sneak" will fill in one letter for each remaining word listed. Each bonus can be used once. Overall, this is a fun word game, but the Halloween elements seem like an afterthought. (The free Halloween Chicktionary Lite gives you the same Halloween theme, but limits you to seven levels.)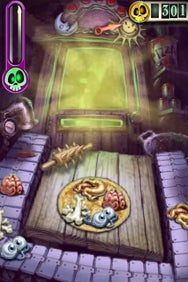 Zombie Pizza, a $1 game from Appy Entertainment, feels creepy and Halloweenish down to its core. In this quick-paced game, you're working in a pizza parlor whose sole clientele is the undead. As new pies are placed on the counter, you must grab toppings from the conveyor belt to build tasty pizzas. But remember your audience: You'll be snagging intestines, eyeballs, bones, hearts, and (of course!) brains to deck out the pies.
Different patterns (say, four different toppings on one pie, or a pie with four brains) are worth more points, and will do more to satisfy the zombies' hunger—and rage. If you toss them an unfinished pie (with fewer than four toppings) or one that doesn't suit their deadened taste buds (with three of one topping, and one of another), that just makes them angry.
If the movies have taught us anything, it's that you do not want to make zombies angry.
Zombies pay more for well-made pizzas. You need to beat new pizzeria revenue targets each level—which run from nightfall to daybreak. (Apparently, these are vampire zombies.) The game is awesomely gross, and notably addictive. More important, its ghoulish fun works not just at Halloween, but all year long.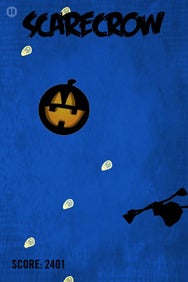 Scarecrow, a $1 game from Ezone.com, fares less well: You'll tire of playing this ragdoll-physics offering long before your first trick-or-treater arrives.
You control the titular straw-man, by tilting the iPhone to "steer," and tapping the screen to explode. See, as you guide the scarecrow upwards, you tray to collect as much candy corn as you can to keep yourself charged, and then your taps trigger explosions that propel you even higher. If you lose your charge, the scarecrow plummets to his death, or whatever the nearest equivalent is for scarecrows. As you climb higher, you'll need to avoid an increasing quantity of Halloween-themed obstacles, like jack-o-lanterns and creepy heads.
The game is briefly fun, but quickly becomes tiresome and numbingly repetitive. Getting bored, mid-game, your first time playing? Not a good sign. A free version— Scarecrow Lite—lets you try out the game, though it features only 60 seconds of play time and lacks the paid versions Plus+ direct push challenges and global leaderboard.
[ Lex Friedman is almost hungry for pizza.]