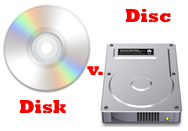 You have questions about your Mac: Why's my Bluetooth keyboard always acting wonky? How come I can't sync To Do items between iCal and my iPhone? Why the love for Marker Felt? Apple knows you have questions.
It's just not going to answer those particular questions.
But, if you've found yourself constantly confounded by the difference between "discs" and "disks" then the kind, generous, and—above all good-looking—folks at Apple Support are here to help you out with their new support article/children's book: " What's the difference between a "disc" and a "disk?" *
Perhaps you'd just assumed that discs and disks were variant spellings of the same word. Ha! Nothing could be further from the truth. "Disc," you see, refers to optical media—you know, those shiny things you put under your martini glass to keep from leaving rings on your antique coffee table. Examples include CDs, DVDs, and perhaps even some day a Blu-ray bags of hurt.
Discs are also removable volumes—you can physically take them out of your computer, where they will clutter up your desk and eventually fall behind it, only to collect dust which, after years in the dark, will develop sentience and slowly begin to gnaw through your floorboards.
How does that differ from a "disk," you might wonder? Well, a disk is a piece of magnetic media—like your computer's hard drive or a floppy disk. In case you're unfamiliar with floppy disks, they're kind of like flash drives that hold half a standard MP3—and you can take them apart to create jewelry.
Sure, that's easy enough—but how could you ever expect to keep the two of them straight? For that, we recommend this helpful mnemonic device: "disc" ends in a "c"—if you cup your hand in a 'c' shape, it's the perfect grip for holding an optical disc. On the other hand, "disk" ends in a "k," which is the periodic symbol for the element Potassium, which is in the same period as Iron (Fe), which is highly magnetic! See? Easy!
And remember: never ever mix the two of these up while talking to Apple technical support or else they will hang up on you. After they've noted it on your permanent record.
* Forthcoming titles in the same series tackle similar tricky topics such as, "Is my FireWire port really on fire?" and "I keep running Time Machine, but time only ever seems to go forward."