The following article is excerpted from Digital Arts.
Canon has launched the EOS 1D Mark IV, a high-speed, professional digital SLR that's pitched directly against Nikon's recently announced D3S.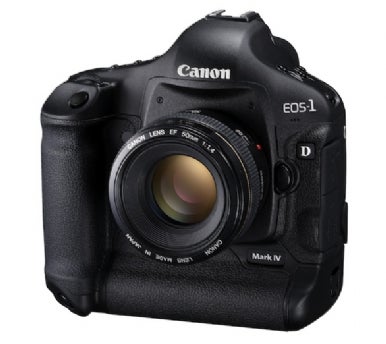 The EOS-1D Mark IV features a new 16-megapixel APS-H CMOS sensor and a brand new 45-point Auto Focus (AF) system with 39 f/2.8-sensitive cross-type points, providing a wide selection of focus areas across the frame. Dual DIGIC 4 processors provide the power to shoot continuous, high-resolution images at up to 10 frames per second (fps), as well as delivering the widest ISO range ever to feature in a Canon camera.
The AF system is managed by a dedicated microprocessor, which Canon says provides fast, accurate focusing—even when shooting continuously at 10fps. The new AI Servo II AF predictive focusing algorithm offers more precision when tracking moving objects, utilizing the power provided by the dedicated microprocessor to improve overall tracking accuracy and increasing focus reliability in low-contrast and extremely bright conditions.
To provide increased flexibility, a vast range of manual and automatic AF control options are available including—with lenses featuring an AF Stop button—Canon's new Spot AF feature. Spot AF offers a more precise focus area to meet the needs of photographers that require pinpoint focusing, says the company. A 63-zone metering system enables the use of multiple metering modes, with the dedicated sensor linked to the 45 AF points, providing AF point-linked and multiple spot metering options.
The inclusion of an APS-H sensor combines a high pixel-count with an effective field of view measuring 1.3x the focal length of the lens. Canon claims that this provides immediate benefits for sports, news and wildlife photojournalists, who operate on-the-move and need to get closer to their subjects and maintain fast apertures without resorting to longer focal-length lenses—which are typically heavier.
The EOS-1D Mark IV also includes updated Picture Styles and the first ever integration of ALO (Auto Lighting Optimizer) in a professional EOS body, automatically correcting the contrast and brightness of images as they are recorded.
The cameras is designed to delivers extreme low-light performance. Standard ISO on the EOS-1D Mark IV ranges from 100 to 12,800, while extended ISO ranges from a low of 50 to 102,400.
Canon says that intelligent noise reduction techniques keep chroma and luminance noise to a minimum, while maintaining colour balance, but never take control of the overall image quality away from the photographer. The architecture of the new sensor, featuring gapless microlenses with less surrounding circuitry and more sensitive, high-capacity photodiodes, also ensures that all available light is used as efficiently as possible to maximize ISO performance in low light conditions.
The Canon EOS-1D Mark IV's EOS Movie function can capture 1080p HD video at 30, 25 and 24fps and 720p footage at 60 and 50fps. The EOS 1D Mark IV is will ship at the end of December 2009 for around $5,000.