Most people see iTunes as a single-window program: when you click something in the sidebar, the main window's content changes. But you may not realize that iTunes can let you use multiple windows for different purposes. Here's an overview of what you can do with iTunes windows.
You certainly can use iTunes in a single window, and most people do so. The program is designed to be fully functional with just one window, and you can tweak the way this window displays. Start with the sidebar: you can change its width from very narrow (hard to read playlist names) to ridiculously wide (hard to see any of your content, and you don't want 500-character playlist names anyway) by hovering your cursor anywhere over the line that separates it from the content section until the cursor turns into a vertical line with arrows on both sides, then clicking your mouse and dragging the line in either direction. You may want to change the width if you use playlists in folders and subfolders, which are indented and therefore make the space available for playlist titles shorter.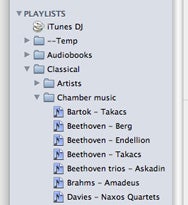 You can also change part of the window's display: you can show or hide the artwork viewer at the bottom left by clicking the rightmost button below the sidebar. And you can turn the window into a mini-player by clicking the green button in the top-left corner (normally a minimize button for others apps in OS X).
But you can also use iTunes with multiple windows. You can open any item in the sidebar (other than the Music library or devices) in a new window by double-clicking its icon, or by Control-clicking and choosing Open In New Window. This allows you to more easily look at multiple playlists, and to copy music from one playlist to another more flexibly: you can drag songs into specific locations on other playlists, instead of just adding them to the ends of playlists. If your windows are small enough—or your screen is large enough—you can just drag from one playlist window to another. But you can also use Expose: select one or several tracks, start dragging them until you see a small green plus (+) icon, then invoke Expose's Application Windows function (by default, press F10). Keep holding your mouse button down; you can now move your cursor over another window, release the Expose key, and drag the tracks to where you want them.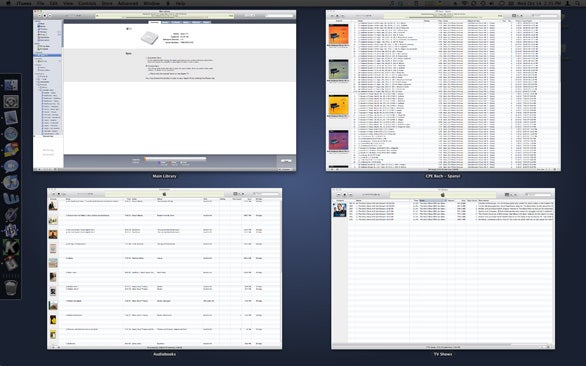 Any windows you have open when you quit iTunes will re-open the next time you launch the program, so you could, for example, always keep the iTunes Store open in a separate window if you wish.
iTunes lets you choose whether to use its own window to play back videos or to view them in a new window. In iTunes' Playback preferences, you can choose video playback options for music videos, and for movies and TV shows. You can choose to play videos in the artwork viewer, in the main iTunes window (filling the window), in a separate window, in full-screen mode, or full screen with visuals (which only works with playlists that contain both videos and music).
In most cases, you'll find that watching movies or TV shows is probably best full screen, but for music videos, you may want to have them in their own window or in iTunes' window, especially if you want to do something else on your Mac at the same time.
As you saw above, you can open the iTunes Store in its own window by double-clicking the iTunes Store icon, but you can also choose to have it automatically fill the iTunes window whenever you click it. Go to the Store preferences and check Use Full Window For iTunes Store. When you click iTunes Store, the sidebar will slide out of the way and the store will use the full width of your window. To get the sidebar back, you need to close the Store by clicking the X icon at the top-left of the Store's display.
[In addition to listening to music, senior contributor Kirk McElhearn has recently been Reading Henry James.]