At a Glance
Expert's Rating
Our Verdict
As a writer and editor, I couldn't be nearly as productive as I am without a multiple-Clipboard utility—a program that stores multiple recent contents of the Clipboard, letting you paste any of them quickly and easily. In addition to the productivity gains such utilities offer, they also protect you from losing important content because you copied or cut it, then absentmindedly copied or cut something else, replacing that content, before you had a chance to paste.
I've previously reviewed Jumpcut, PopCopy, and CuteClips, three multiple-Clipboard utilities that focus on simplicity and ease of use; Jumpcut remains one of my favorite OS X add-ons. But if you're willing to forego some of that simplicity, PTH Pasteboard Pro offers a whole lot more functionality.
Like other such utilities, every time you copy or cut content—text, images, and so on—to the Clipboard, PTHPasteboard Pro automatically adds that content to its own list of Clipboard contents, which the developer calls a pasteboard; you choose how many items the pasteboard holds, as well as the maximum size of items to be saved. You can access those contents via a separate pasteboard window or—my preference—a menu-bar menu. Click on an entry in the window or menu to immediately paste it into the current document or text field.
(Two bonuses you get with the window approach, instead of the menu-bar menu, are a search field for finding particular text—a great feature if you can't remember when you cut that important paragraph you forgot to paste—and a larger preview of the contents of a particular pasteboard buffer by holding the cursor over that item.)
Right-click on an item in the window, or access its hierarchical menu in the menu, and PTHPasteboard gives you more options: It shows you the name of the application in which you copied or cut the content, the date and time it was added to the pasteboard, and a count of lines, words, and characters. You can also remove the item from the pasteboard, add it to a different pasteboard (more on that below), format it, or apply a custom filter to it.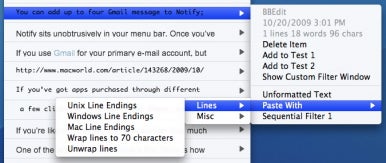 These filters are one of the standout features of PTHPasteboard Pro. You can apply them when pasting content from the pasteboard, and they can strip formatting from text; change case, spacing, and format; clean up HTML and lines; find and replace text; and even perform various miscellaneous tweaks such as shortening URLs and processing text using shell scripts. You can also create your own filters, and you can create sequential filters, which combine multiple filters into a single action.
PTHPasteboard lets you set up keyboard shortcuts for various actions, such as pasting from the pasteboard, applying filters, and popping up a pasteboard menu directly under the mouse cursor for quick access. Unfortunately this last feature doesn't always work properly; sometimes the menu appears across the screen.
Another useful feature is that you're not limited to a single pasteboard; PTHPasteboard lets you create as many different pasteboards as you need. The main one will continue to hold contents you copy or cut to the Clipboard, updating in real time. You can use the additional pasteboards for frequently used bits of text and images that you want to access quickly. I found myself creating a temporary pasteboard just for content I was using many times in a particular document. (You add content to alternate pasteboards by copying it to the main pasteboard and then using the hierarchical menu mentioned above.)
For those who work on multiple Macs, an especially appealing feature is the capability to automatically sync the Main pasteboard's contents between Macs on your local network. While some utilities—including previous Gems ClipboardSharing and DropCopy—let you manually transfer the current contents of the Clipboard between Macs, PTHPasteboard can actively keep the entire Main pasteboard on two Macs synchronized. In other words, if I copy or cut something to the Clipboard on my desktop Mac, that copied content automatically appears in the pasteboard on my laptop, as well, immediately available for pasting. (You can opt to encrypt the synced data for security.) The feature generally works well, although I did have some trouble getting my desktop Mac's pasteboard to appear in PTHPasteboard on my laptop.
If you're concerned about PTHPasteboard storing sensitive data in its buffers, you can have PTHPasteboard Pro ignore content copied or cut from within particular programs, such as Keychain Access and 1Password.
Because it provides so many features—more than I could cover here—PTHPasteboard isn't nearly as simple to use as something like Jumpcut, but the added functionality gives it an impressive amount of potential for improving your workflow.
Want to stay up to date with the latest Gems? Sign up for the Mac Gems newsletter for a weekly e-mail summary of Gems reviews sent directly to your Inbox.