The climactic final chapter to the X Universe saga arrived on the Mac this month with the release of X3: Terran Conflict for the Mac by Virtual Programming. In this expansive single-player space exploration and combat simulator, players take on exciting missions, develop trade networks, and engage in epic battles to gain supremacy of the galaxy.
X3: Terran Conflict is available now at Virtual Programming's Deliver2Mac digital download service for $40. The game runs on Intel-based Macs with a 2.16GHz processor or faster and Nvidia GeForce 8600, ATI Radeon X1600 or newer graphics card. You'll also need to run Mac OS X 10.5.7 and have 7GB of hard drive space.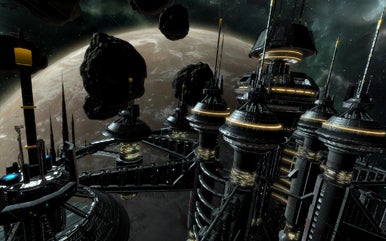 This award-winning game first came to the PC in 2008 and finally launched for the Mac earlier this month. The trailer below and initial screens reveal high-end graphics and a truly epic scale. It looks like Virtual Programming has really put in the time to translate the visual fireworks of this game for the Mac platform. Ships are unique, richly detailed, and customizable with different classes and weapons to choose from.
For those new to the series, the story revolves around the races of humans, aliens, and machines that are vying for power in a sci-fi futuristic universe. Players can select from several different characters, with each choice altering the plot slightly. While the game enjoys some role—playing game aspects, it is not a massively multiplayer online game—in fact, X3 offers no multiplayer support.
Players get the opportunity to explore the newly rediscovered Solar System, investigate the behavior of alien races, trade resources, engage in dogfights, or simply find their own path in space. As players gather resources, they can build a variety of buildings, structures, spaceships, and weapons to aid in their conquest.
The press materials boast of unparalleled detail, allowing the player to not only control epic armadas but dogfights between small ships as well. Combining real-time strategy features with first-person space combat is a trick rarely pulled off, so we'll see if X3 can find themselves among the heavens or crashing into the sun with their ambitions.
With so much to explore, don't expect this to be a game for the casual game session. You're likely to spend hours exploring the different races, stories, and planets. Like EVE Online and other epic space-based games, the more dedicated you are to unraveling the world, the more you'll get out of it. Hopefully, this does not mean that players new to the series will be turned off.
Essentially, X3 looks to be a game where it is what you make of it. "We sell you a universe. Do with it what you like," Bernd Lehahn, managing director at developer Egosoft, said in press materials accompanying X3's release. "We brought the storyline full circle, but we've also given players an even larger playground for exploration, trade, combat, and more."
Truly immersive space simulators are rare on the Mac platform, and sci-fi fans and dedicated strategy enthusiasts alike will want to give this game a look.