Delicious is a popular social-bookmarking service—so popular that Yahoo bought it—that lets you save bookmarks "to the cloud" (in other words, online). You can access your saved bookmarks from any browser on any computer, share them with friends, and, thanks to the social nature of Delicious, see what's popular based on what others are bookmarking. But to truly make Delicious useful, you need a good tool that gives you access your bookmarks as conveniently as the old, busted bookmarks menu in your Web browser. Delibar is just such a tool, and it greatly improves the experiences of accessing and sharing your Delicious bookmarks.
Delibar offers a gorgeous, non-intrusive way to both use your Delicious bookmarks and create new ones. You can configure the program to run in the Dock or in the menu bar. You can also activate Delibar via keyboard shortcuts, letting you quickly search your bookmarks, view a list of your most recent bookmarks, and see bookmarks saved by your network of friends and those you follow.
To keep you working instead of bookmarking, Delibar provides shortcuts and bookmarklets for saving the frontmost tab or window of your browser, recommending frequently used tags in the process. And if you've got multiple accounts—for example, one for your personal bookmarks and another for collaborating with others at work—you can select, on the fly, which one to use.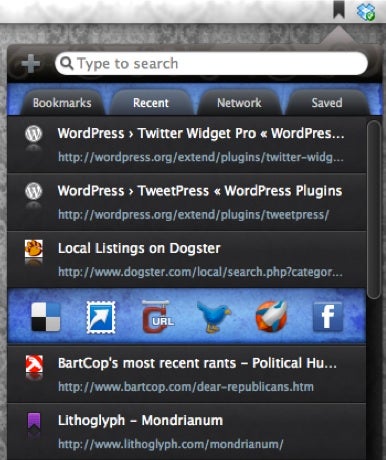 Besides making the Delicious experience more accessible and efficient, Delibar's best features involve searching and sharing your bookmarks. You can use Google-like search queries to find specific phrases or to omit particular terms, and several pre-defined Special searches are available; for example searching for @top5 searches for the top five most-frequently accessed bookmarks. If you frequently search for a specific tag or link, you can "tear off" that search-results window to keep it visible on your desktop.
One of my favorite aspects of Delibar is its social focus. Clicking a button next to any Delicious bookmark allows you to share that link via email, Twitter, and Facebook, or to blog it with MarsEdit. Delibar can become a sort of organizational and social hub for all the sites you see fit to bookmark and share.
One drawback to Delibar is that it doesn't present your bookmarks in a folder-style list the way most browsers and bookmark tools do; instead, you must search for bookmarks or rely on the program's list of most-recent bookmarks. (This is especially disappointing since pre-release versions of Delibar actually offered a list view.) Granted, searching in Delibar is very quick, especially once you're familiar with Delibar's keyboard shortcuts, and the tear-off search window also helps. Still, I hope Shiny Frog brings back some kind of tag/folder view in a future update.
I've followed Delibar's progress over the last couple of years, through a number of pre-release versions that experimented with different ways of interacting with the Delicious service. Version 1.0 is a massive upgrade from those versions, and it has what is easily the most attractive and progressive interface of any Delicious client I've seen. Despite the considerable drawback of not having a complete bookmark menu, Delibar's ease of use, keyboard shortcuts, search feature, and beautiful interface have earned it a spot in my menubar.
(While the full version of Delibar is $18 at current exchange rates, once the program's two-week demo expires, Delibar continues to function in a free mode that's limited to searching your Delicious bookmarks.)
Updated 11/5/2009, 9:40pm: Updated price, which changed the day after this review was published; added information about free limited-feature version.